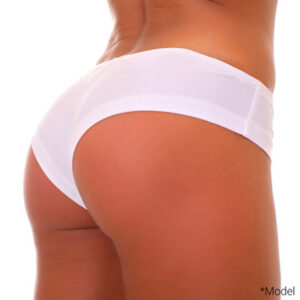 A firm, full derriere is a sign of health and beauty, and this area of the body is receiving more attention than ever before. If you are dissatisfied with your appearance due to a lack of volume or appealing contour in your buttocks, our board-certified plastic surgeon, Dr. Neal Goldberg, performs Brazilian butt lift with natural-looking and long-lasting results. Dr. Goldberg uses fat injections derived from your own tissues to enhance the shape of your buttocks without the use of implants or other foreign objects. This fat transfer can help to:
Improve the size and shape of the buttock area
Enhance body contour
Achieve long-lasting, potentially permanent results
Is Brazilian Butt Lift Right for Me?
4280 View Gallery Dr. Goldberg's singular approach to the Brazilian butt lift allows for extensive customization. Fat injections, also called fat grafting, can be used to enhance the buttocks while helping to smooth and contour other regions of the body, achieving the most natural looking and aesthetically appealing results possible. If you prefer a buttock augmentation procedure that avoids implants and other foreign substances, Dr. Goldberg's method utilizes your own fatty tissue, which is extracted, repurposed, and injected into targeted locations to attain an ideal outcome. You will need a sufficient amount of fatty tissue accumulation in another area of your body for this technique to be effective, and Dr. Goldberg will evaluate you for this qualification during your initial consultation. This method has other benefits as well, including long lasting, potentially permanent effects, less downtime than some other approaches, and complete personalization to suit your needs and goals.
How Can Fat Injections Achieve My Cosmetic Goals?
Fat injections for the buttocks can increase the volume and improve the curve of the derriere, as well as the surrounding area. As a direct effect of the fat harvesting process, you can also typically achieve improved contour along the flanks and abdomen where the tissue usually will be collected. If you desire greater body contouring, Dr. Goldberg will be happy to discuss your needs and goals and detail the best options available during your meeting. Facial fat injections are also available at our practice, which can reduce signs of facial aging with minimal downtime.
What Can I Expect From the Procedure?
During your initial consultation, Dr. Goldberg will detail the process for your unique treatment plan. The procedure will begin with liposuction, which is used to harvest the fatty tissue from a donor region. In most cases, the abdomen or the flanks (hips and upper thighs) are the best locations to collect viable tissue, though your experience may vary. For the Brazilian butt lift, Dr. Goldberg may take more tissue than necessary for the fat transfer to further contour the area surrounding the derriere, as this often enhances the outcome.
Dr. Goldberg employs an advanced micro-droplet technique to deliver the prepared fatty tissue back into the skin where desired. This approach allows him the greatest freedom to achieve natural-looking volume enhancement. He is also careful to avoid over-filling, and he utilizes an artistic eye in combination with his extensive experience to fine-tune results. This combination of science and art is designed to give you the optimal body curve.
What Will My Life Be Like After Brazilian Butt Lift?
Following the procedure, you should generally be able to return home the same day. Some swelling, tenderness, and bruising may occur, particularly where the fat was harvested with liposuction. These effects may last a week or more, depending on your unique rate of healing. However, the buttock area should experience less discomfort due to the ultrafine needles and small cannulas used to administer the fat. You will also be instructed to wear special shaping garments that help to achieve the best possible result, and Dr. Goldberg will advise you on how long to wear these dressings. Additionally, you should avoid sitting directly on the augmented area for a few weeks, or as long as Dr. Goldberg recommends. There are special cushions and chairs available to help reduce pressure and enhance your comfort while healing, and we can suggest options upon your request.
Brazilian butt lift can be a permanent procedure in certain cases. If you maintain the same weight, the results should typically continue indefinitely. It is important to note there will be some degree of "settling" or volume loss after the treatment. Dr. Goldberg may recommend multiple sessions to help you achieve the ideal outcome. Some swelling may continue up to six months, after which the final results should be visible.
Our Brazilian butt lift technique can enhance natural curves without the use of foreign substances or objects. For more information about this procedure, or if you would like to schedule a consultation with Dr. Goldberg, please contact us today.
*Individual Results May Vary