Breast augmentation or enlargement is a procedure designed to enhance the volume, size, symmetry, and contour of the breasts. If you are looking to increase the size or improve the overall appearance of your breasts through cosmetic breast surgery, Dr. Neal Goldberg is widely considered one of the best plastic surgeons in the Westchester region. As a breast surgeon certified by the American Board of Plastic Surgery, Dr. Goldberg offers natural-looking breast augmentation at his practice to help you achieve your aesthetic goals.
WHAT IS BREAST AUGMENTATION?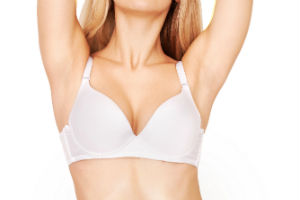 Breast augmentation is designed to improve the appearance of the breasts by altering the size and shape of the breast contours. According to the American Society of Plastic Surgeons, over 313,000 women turned to breast augmentation in 2018 due to dissatisfaction with their breast size or shape, which can affect the overall proportion of the body. Not only can breast augmentation be used to increase breast size and symmetry, but it can also be used to restore fullness lost over time or to correct conditions such as tuberous breast. Breast augmentation can help:
Improve body proportions/breast symmetry
Increase breast size
Uplift self-confidence
This procedure is among the most popular cosmetic surgeries in the country and the world. At our practice, our board-certified plastic surgeon personalizes each breast augmentation according to a patient's anatomical needs, aesthetic goals, and unique body frame to achieve an outcome that looks natural and accentuates their feminine features.
AM I GOOD CANDIDATE FOR BREAST AUGMENTATION?
3585 View Gallery Ideal patients for this surgery should be making an autonomous choice and understand the benefits and risks of the procedure. Furthermore, it is important that breast augmentation patients:
Are physically healthy, with no uncontrolled medical conditions
Are willing to withstand the recovery period after breast augmentation
Are not pregnant or breastfeeding
Are not undergoing chemotherapy or cancer removal treatment
The decision to undergo cosmetic surgery should be a personal determination, and those considering breast augmentation should never pursue the procedure under pressure from their friends and/or loved ones.
WHEN IS THE BEST TIME FOR BREAST AUGMENTATION?
Contrary to popular belief, there is no perfect age to have breast augmentation; however, there are some stipulations to consider. The FDA requires all patients who opt for saline breast implants to be 18 years or older. For our breast augmentation patients who choose silicone implants, they must meet the age requirement of 22 years of age or older. Rather than age, we are more concerned with the quality of your physical health, as it greatly affects the rate at which you will heal following surgery. If Dr. Goldberg finds that you are in reasonably good health and that he is able to address your aesthetic goals with breast augmentation, he can create a custom treatment plan for you.
It's not for society to say who should have plastic surgery. That's up to each individual to decide. It comes down to personal esteem and wanting to feel better about yourself.
– Happy Patient
WHAT ARE MY BREAST IMPLANT OPTIONS?
SALINE IMPLANTS VS. SILICONE IMPLANTS
As mentioned, you and your surgeon have many options when considering breast augmentation—the first of which is the type of implant to use. Saline implants are filled with sterile saltwater encased in silicone rubber during surgery. They are filled during surgery, allowing for a shorter surgical incision.
Silicone implants have a more natural feel and are lighter, but can be more expensive. Additionally, silicone implants can only be used on patients 22 and older, per the FDA. Implant size, shape, texture, profile, diameter, and the exact placement can also be determined prior to the procedure and will vary based on the needs and expectations of the patient.
BREAST IMPLANT SHAPES
Both saline and silicone breast implants are available in either round or teardrop shapes. Implants can have smooth or textured surfaces, and can be placed either above or below the chest muscle. Dr. Goldberg will discuss all of the possible options with you to help you decide which is right for you.
BREAST IMPLANT SIZES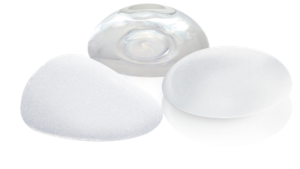 Breast implants come in a wide range of sizes. While it's helpful to have a general idea of the "cup size" you might want to achieve, implants come in volumes that do not always correlate with your idea of an A, B, C, D, etc. As a result, we will have you "test out" a few different options to find the best one for your shape and goals. Dr. Goldberg will provide guidance and insight during your initial consultation, and ultimately the decision will be up to you.
What Can I Expect at My Breast Augmentation Consultation?
Many of the decisions you will make regarding your breast implants—such as the best size, shape, and type of implant—can be determined during your initial consultation with Dr. Goldberg. At your appointment, you can expect Dr. Goldberg to ask you about your reasons for pursuing breast augmentation. He will also speak to you about your aesthetic concerns and your ideal outcome so he can better assist you in making the most optimal choices to achieve your goals.
In addition to answering all of your questions about the pros and cons of each type of implant, you will have the opportunity to try on a variety of implant sizes to get an idea of how each option will affect your silhouette and overall appearance. Based on factors like your unique body frame and your existing breast size, Dr. Goldberg will help you determine which implants will allow you to attain natural-looking enhancement. You will also be able to ask Dr. Goldberg about his qualifications and experience with breast augmentation and breast surgery in general. After a thorough discussion in which Dr. Goldberg confirms that you are a good candidate for breast augmentation, he will develop a treatment plan tailored for your needs and surgical goals.
HOW IS THE BREAST AUGMENTATION PROCEDURE PERFORMED?
Most breast augmentation procedures take about one hour and can be performed without general anesthesia. After the incision has been made in the desired location, the breast tissue and skin are lifted to make a pocket for each implant. The implant is then inserted below or above the pectoral muscle and centered below the nipple. Finally, the incisions are closed with sutures and skin adhesive or surgical tape is applied.
The inframammary, periareolar and transaxillary incisions are the most common techniques for plastic surgeons performing breast augmentation.
WHAT IS THE BREAST AUGMENTATION RECOVERY PERIOD LIKE?
Following the procedure, you will wear a special bra for recovery, which can last one to two weeks. Dr. Goldberg will likely advise you to ambulate within two hours. Pain may be controlled with medication and regular exams are recommended. Implants do not have an expiration date, but they are not guaranteed to last a lifetime and future breast surgery may be necessary.
As with any surgery, you should be prepared for possible side effects, which may include changes in sensation, infection or inflammation and various implant issues including rupture or contracture.
WILL BREAST AUGMENTATION PROVIDE NATURAL-LOOKING RESULTS?
Dr. Goldberg is extensively trained and experienced with breast augmentation procedures, and he will perform the procedure with the goal of providing results that look both beautiful and natural. When it comes to the final aesthetic outcome, your unique body proportions and the choice of implants you select for your procedure are very important considerations. The size, shape, and composition of the implants will be factored into where Dr. Goldberg chooses to place the implant. For example, if you have a thin frame and currently have minimal chest volume, you may select an implant to achieve a fuller appearance that does not look overdone. Dr. Goldberg specializes in breast augmentation, so women of all shapes and sizes can feel confident that he will work with you to find a look that matches your vision.
WILL I HAVE NOTICEABLE SCARRING AFTER BREAST AUGMENTATION?
The level of visible scarring present after breast augmentation will ultimately depend on the type of surgical technique that is utilized. With that in mind, Dr. Goldberg works diligently to minimize prominent signs of residual scarring. Depending on the approach, incisions may be created in inconspicuous areas or in regions of the breasts where the resulting scars can be easily concealed.
HOW MUCH DOES BREAST AUGMENTATION COST?
The price of breast augmentation at our practice starts at $6,700 for saline implants and $7,400 for silicone implants. There are a few different factors that make up the final cost of this procedure, which include the surgeon's fees, the facilities fees, anesthesiology fees, and the cost of any garments used during the appointment. The estimate above includes all of the surgical fees, not just surgeon's fees. In your consultation with Dr. Goldberg, he can provide details about the total cost of your procedure. As this is a cosmetic procedure, it is unlikely that insurance will cover costs. Our office staff is available to find financing options that may work for you. We believe all individuals who are candidates for breast augmentation should be able to have this procedure and we look forward to helping you achieve your aesthetic goals.
HOW LONG DO BREAST IMPLANTS LAST?
Implants are not necessarily designed to be lifetime devices, although many women are able to enjoy them without a second surgery. Some breast implant companies offer a warranty—usually lasting about 10 years—that insures a patient's implants against rupture and even capsular contracture.
Capsular contracture is a condition in which the scar tissue surrounding the implant becomes hard, misshapen, and potentially even painful. Dr. Goldberg takes special precautions to reduce the risk of this concern. If it does occur, the implants will need to be removed and, if desired, replaced. Some women choose to exchange their implants later in life, either to switch to a different type of implant, such as saline to silicone, or to modify the size (larger or smaller). In some cases, patients may wish to remove the implants entirely as their cosmetic preferences have changed over time. All these factors should be considered and weighed when deciding to have breast augmentation.
What are the Most Common Breast Augmentation Complications?
The potential complications associated with breast augmentation are similar to the risks involved with any surgical procedure: bleeding, infection, problems with anesthesia, poor scarring, hematoma, and fluid accumulation are all considered possible outcomes. That said, the risk of complication can be vastly reduced when you select a highly experienced breast augmentation surgeon to perform your procedure.
Researching whether a surgeon is board certified can be a telltale way to assess the breadth of their training, as those who maintain accreditation with the American Board of Plastic Surgery complete post-graduate education beyond the minimum requirements necessary to become a plastic surgeon. Furthermore, board-certified plastic surgeons typically have more specialized experience performing aesthetic procedures when compared to surgeons who simply focus on general surgery. As a result, plastic surgeons who are board certified can be better-equipped to avoid the complications mentioned previously, as well as the risks unique to breast augmentation, such as:
Changes in nipple and/or breast sensation
Faulty positioning of an implant
Visible or palpable implant edges
Implant leakage or rupture
Your safety and overall satisfaction are paramount at our practice, and Dr. Goldberg will never suggest breast augmentation if you are not a good candidate for the surgery.
HOW TO CHOOSE A BREAST AUGMENTATION SURGEON
One of the most important decisions you will make is selecting the plastic surgeon to perform your breast augmentation. Every surgeon has an "aesthetic" that they consider to be the ideal. You should review any potential physician's breast augmentation before-and-after photos to see if you share their aesthetic. Even more important than cosmetic preferences is the skill and experience of the surgeon. You should choose someone who is board certified in plastic surgery. This certification shows that the doctor has completed a rigorous evaluation of their skills and training and completed the necessary education at accredited facilities. The American Board of Plastic Surgery requires members to complete continuing education courses to remain at the forefront of their field and maintain high safety standards.
During your initial consultation, you'll have the opportunity to ask Dr. Goldberg many questions, and we encourage you to do so. The right surgeon for you will be attentive and caring, and you should feel comfortable discussing your objectives openly and honestly with him.
ADDITIONAL BREAST AUGMENTATION FAQS
SHOULD I BE WORRIED ABOUT BIA-ALCL?
BIA-ALCL, or Breast Implant-Associated Anaplastic Large Cell Lymphoma, is an uncommon cancer of the immune system that has been found in certain patients with aggressively textured breast implants. This condition only affects approximately 1 in 30,000 individuals with textured implants. While it is natural and understandable for patients to be concerned about BIA-ALCL, Dr. Goldberg mainly places smooth implants—which have generally not been associated with BIA-ALCL—and does not utilize the implants predominantly linked to the condition. In addition, patient concerns can be further allayed by the voluntary recall of Allergan® BioCell® breast implants, which are the textured implants connected to most cases of BIA-ALCL.
DO YOU PERFORM FAT TRANSFER BREAST AUGMENTATION?
"Fat transfer breast augmentation" is a phrase used to describe the technique of harvesting fat from other regions of the body, such as the thighs, abdomen, and buttocks, and reintroducing it to the breasts. This is typically performed to achieve a "natural breast augmentation" without the use of saline or silicone implants. While Dr. Goldberg may use fat transfer to smooth out contour irregularities and palpable implant edges, this technique should not be employed alone to enlarge the breasts. A portion of the transferred fat is usually reabsorbed by the body, often resulting in a very subtle and mild enhancement.
WHAT IS THE AVERAGE BREAST AUGMENTATION RECOVERY TIME?
The recovery period typically lasts 7 to 10 days for most breast augmentation patients. It is not uncommon for individuals to feel well enough to return to non-strenuous work a few days after their breast surgery, but it can take at least one week for initial swelling to resolve after breast augmentation. That said, each patient has their own unique rate of healing and the length of your recovery may vary based on your individual needs.
HOW CAN I REDUCE SWELLING AFTER BREAST AUGMENTATION?
Swelling can often be minimized with oral pain medication and ice packs. In general, the best ways to accelerate the recovery period is to get plenty of rest and to follow Dr. Goldberg's post-operative instructions. While residual inflammation can last for several weeks after surgery, the majority of swelling should resolve as healing progresses.
WHAT IS IMPLANT RIPPLING?
Implant rippling refers to the ability to see or feel the edges of a breast implant through the skin. This may occur if a patient does not have enough skin and/or breast tissue to provide proper coverage for an implant. Rippling is a very common breast implant complication that can be corrected during a breast revision or fat grafting procedure. Dr. Goldberg is well-versed in addressing implant rippling by smoothing the breast contours and restoring a natural look and feel.
DO I NEED A BREAST LIFT IN ADDITION TO AN AUGMENTATION?
Some patients interested in breast augmentation may also experience breast ptosis, a condition in which the nipple and/or a significant portion of the breast hangs below the breast fold. If this is the case, Dr. Goldberg may recommend a breast lift with implants to fully rejuvenate the breasts. This dual procedure can reduce breast sag and improve the breast shape in addition to placing implants.
When can I exercise after breast augmentation?
We usually advise refraining from exercise, heavy lifting, and aerobic activity for at least four to six weeks after surgery. Dr. Goldberg will monitor your personal recovery period and keep you apprised of when you can safely resume your workouts. When he does clear you for exercise, it's often recommended to start with lighter activity and gradually progress to more demanding workouts as you evaluate how your body responds.
How should I sleep after breast augmentation?
Patients should sleep on their back after the breast augmentation procedure to help reduce swelling and to avoid placing excess pressure on their implants and incisions. Propping pillows up can often help individuals sleep at a more comfortable angle while allowing their implants to settle into a natural positioning.
Will I have to replace my breast implants?
There are plenty of patients whose implants remain in good condition throughout their lifetime, and who never have the need to undergo breast revision. However, Dr. Goldberg advises remaining vigilant to potential changes in your breasts throughout the years to help ensure there are no medical issues that should be addressed.
Can you breastfeed with breast implants?
Depending on whether you were able to breastfeed before your breast augmentation, it's certainly possible for patients to retain the ability to nurse after their procedure. If you have plans to breastfeed in the future, please be sure to communicate your desires with Dr. Goldberg so he can personalize the surgery according to your goals. In most cases, it may be more beneficial to postpone your enhancement until after you have no future plans to nurse, as breastfeeding with implants can potentially cause increased skin laxity and alter the results of your breast augmentation.
For more information about breast augmentation, call our office for a consultation at 914-840-5999.
*Individual Results May Vary