If you are looking to increase the size or improve the overall appearance or shape of your breasts through cosmetic breast surgery, Dr. Neal Goldberg, considered to be one of the best plastic surgeons, is proud to offer breast augmentation in his practice.
What Is Breast Augmentation?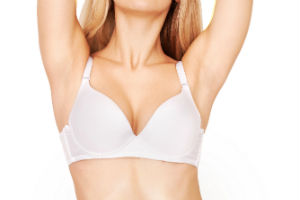 Breast augmentation is designed to improve the appearance of the breasts by altering the size and shape of this feminine area. Breast augmentation can help:
Improve body proportion/symmetry
Increase breast size
Improve self-confidence
Please follow the links below for more information:
Am I Good Candidate For Breast Augmentation?
3585 View Gallery According to the American Society of Plastic Surgeons in 2009, nearly 300,000 women turned to breast augmentation due to dissatisfaction with their breast size or shape, which can affect the overall proportion of the body. Not only can breast augmentation be used to increase breast size and symmetry, but it can also be used to restore fullness lost over time or to correct conditions such as tuberous breast. Ideal patients of this surgery should be making an autonomous choice and be capable of understanding the benefits and risks the procedure presents.
Breast Augmentation Timing – When Should I Have The Procedure?
Contrary to popular belief, there is no perfect age to have breast augmentation; however, there are some stipulations to consider. The FDA requires all patients who opt for saline breast implants to be 18 years or older. For our breast augmentation patients who choose silicone implants, they must meet the age requirement of 22 years of age or older. Rather than age, we are more concerned with the quality of your physical health, as it greatly affects the rate at which you will heal following surgery. If Dr. Goldberg finds that you are in reasonably good health and that he is able to address your aesthetic goals with breast augmentation, he can create a custom treatment plan for you.
It's not for society to say who should have plastic surgery. That's up to each individual to decide. It comes down to personal esteem and wanting to feel better about yourself.
– Happy Patient
What Are My Breast Implant Options?
As mentioned, you and your surgeon have many options when considering breast augmentation—the first of which is the type of implant to use. Saline implants are filled with sterile saltwater encased in silicone rubber during surgery. They are filled during surgery, allowing for a shorter surgical incision.
Types Of Breast Implants – Saline Or Silicone
Silicone implants have a more natural feel and are lighter, but can be more expensive. Additionally, silicone implants can only be used on patients 22 and older, per the FDA. Implant size, shape, texture, profile, diameter and exact placement can also be determined prior to the procedure and will vary based on the needs and expectations of the patient.
Breast Implant Shapes
Both saline and silicone breast implants are available in either round or teardrop shapes. Implants can have smooth or textured surfaces, and can be placed either above or below the chest muscle. Dr. Goldberg will discuss all of the possible options with you to help you decide which is right for you.
Breast Implant Sizes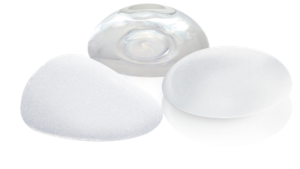 Breast implants come in a wide range of sizes. While it's helpful to have a general idea of the "cup size" you might want to achieve, implants come in volumes that do not always correlate with your idea of an A, B, C, D, etc. As a result, we will have you "test out" a few different options to find the best one for your shape and goals. Dr. Goldberg will provide guidance and insight during your initial consultation, and ultimately the decision will be up to you.
Do I Need A Breast Lift In Addition To An Augmentation?
Some patients interested in breast augmentation may also have breast ptosis. This is when either the nipple or a significant portion of the breast hangs below the fold on the undersurface. When this is the case, Dr. Goldberg may recommend a breast augmentation with lift. This procedure lifts these tissues in addition to placing an implant.
What To Expect In Breast Augmentation Surgery
Most breast augmentation procedures take about one hour and can be performed without general anesthesia. After the incision has been made in the desired location, the breast tissue and skin are lifted to make a pocket for each implant. The implant is then inserted below or above the pectoral muscle and centered below the nipple. Finally, the incisions are closed with sutures and skin adhesive or surgical tape is applied.
The inframammary, periareolar and transaxillary incisions are the most common techniques for plastic surgeons performing breast augmentation.
What Will My Life Be Like After Breast Augmentation?
Following the procedure, you will wear a special bra for recovery, which can last one to two weeks. Dr. Goldberg will likely advise you to ambulate within two hours. Pain may be controlled with medication and regular exams are recommended. Implants do not have an expiration date, but they are not guaranteed to last a lifetime and future breast surgery may be necessary.
As with any surgery, you should be prepared for possible side effects, which may include changes in sensation, infection or inflammation and various implant issues including rupture or contracture.
Will Breast Augmentation Provide Natural-looking Results?
Dr. Goldberg is extensively trained and experienced with breast augmentation procedures, and he will perform the procedure with the goal of providing results that look both beautiful and natural. When it comes to the final aesthetic outcome, your unique body proportions and the choice of implants you select for your procedure are very important considerations. The size, shape, and composition of the implants will be factored into where Dr. Goldberg chooses to place the implant. For example, if you have a thin frame and currently have minimal chest volume, you may select an implant to achieve a fuller appearance that does not look overdone. Dr. Goldberg specializes in breast augmentation, so women of all shapes and sizes can feel confident that he will work with you to find a look that matches your vision.
Will I Have Noticeable Scarring After Breast Augmentation?
The level of visible scarring present after breast augmentation will ultimately depend on the type of surgical technique that is utilized. With that in mind, Dr. Goldberg works diligently to minimize prominent signs of residual scarring. Depending on the approach, incisions may be created in inconspicuous areas or in regions of the breasts where the resulting scars can be easily concealed.
How Much Does Breast Augmentation Cost?
The price of breast augmentation at our practice starts at $5,500 for saline implants and $6,250 for silicone implants. There are a few different factors that make up the final cost of this procedure, which include the surgeon's fees, the facilities fees, anesthesiology fees, and the cost of any garments used during the appointment. The estimate above includes all of the surgical fees, not just surgeon's fees. In your consultation with Dr. Goldberg, he can provide details about the total cost of your procedure. As this is a cosmetic procedure, it is unlikely that insurance will cover costs. Our office staff is available to find financing options that may work for you. We believe all individuals who are candidates for breast augmentation should be able to have this procedure and we look forward to helping you achieve your aesthetic goals.
How Long Do Breast Implants Last?
Implants are not necessarily designed to be lifetime devices, although many women are able to enjoy them without a second surgery. Some breast implant companies offer a warranty, usually lasting about 10 years, that insures them against rupture, and sometimes capsular contracture. Capsular contracture is a condition in which the scar tissue surrounding the implant becomes hard, misshapen, and potentially even painful. Dr. Goldberg takes special precautions to reduce the risk of this concern. If it does occur, the implants will need to be removed and, if desired, replaced. Some women choose to exchange their implants later in life, either to switch to a different type of implant, such as saline to silicone, or to modify the size (larger or smaller). In some cases, patients may wish to remove the implants entirely as their cosmetic preferences have changed over time. All these factors should be considered and weighed when deciding to have breast augmentation.
How To Choose A Breast Augmentation Surgeon
One of the most important decisions you will make is selecting the plastic surgeon to perform your breast augmentation. Every surgeon has an "aesthetic," what they consider to be a beautiful breast. You should review any potential physician's breast augmentation before-and-after gallery to see if you share this aesthetic. Even more important than cosmetic preferences is the skill and experience of the surgeon. You should choose someone who is board certified in plastic surgery, someone like Dr. Goldberg. This certification shows that the doctor has completed a rigorous evaluation of their skills and training and completed the necessary education at accredited facilities. The American Board of Plastic Surgery requires members to complete continuing education courses to remain at the forefront of their field and maintain high safety standards.
During your initial consultation, you'll have the opportunity to ask Dr. Goldberg many questions, and we encourage you to do so. The right surgeon for you will be attentive and caring, and you should feel comfortable discussing your objectives openly and honestly with him.
For more information about breast augmentation, call our office for a complimentary consultation at 914-840-5999.
*Individual Results May Vary