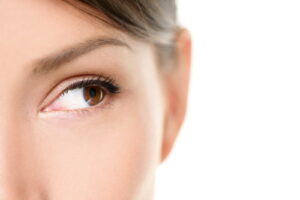 In some people, excess skin and fat around the eyes can cause a drooping effect causing a tired or older appearance. Dr. Neal Goldberg, a leading plastic surgeon, is proud to offer cosmetic eyelid surgery to combat droopy or puffy eyelids. This type of facial plastic surgery can help:
Correct drooping or puffy eyelids
Remove excess skin of the eyelids
Am I a good candidate for eyelid surgery?
3712 View Gallery Eyelid surgery, also known as Blepharoplasty, can be performed on most patients 35 and older. In fact, more than 200,000 individuals underwent eyelid surgery in the US in 2009, according to the American Society of Plastic Surgeons. These patients chose surgery to correct stretched skin and baggy or droopy eyelids, which can often be hereditary.
If you suffer from any of the following conditions, then you may not be good candidate for eyelid surgery: thyroid problems like hypothyroidism and Graves' disease, dry eye or insufficient tears, high blood pressure, cardiovascular disease, diabetes and detached retina or glaucoma.
There's a wide range in what plastic surgery can achieve – dramatic or subtle outcomes. Sometimes a little goes a long way.
What can I expect from the procedure?
Prior to surgery, you may need to undergo a medical evaluation including a vision test in which the ophthalmologist will share relevant information with Dr. Goldberg. The surgery is done on an outpatient basis and takes between 1-3 hours to complete. A local anesthetic will be used to numb the area around the eyes. Dr. Goldberg will then make incisions that follow the natural lines of the eyelids, in your creases of the upper eyelids and below the lashes in the lower lids.
Dr. Goldberg then separates the skin from the fatty tissue and muscle underneath, repositioning or removing the excess fat. Sagging muscle and skin are also trimmed. Using very fine sutures, Dr. Goldberg closes the incisions. He may also opt to use the transconjunctivital eyelid surgery technique, making an incision in the lower lid, and only a conservative amount of fat will be removed.
What will my life be like after eyelid surgery?
The recovery time following eyelid surgery is approximately ten days. As the anesthesia wears off, the eyelids may feel tight and sore. You should keep your head elevated for several days and you may be prescribed medication to control any pain. Cold compresses may also be used to reduce swelling and bruising. You cannot wear contact lenses for about two weeks, but you may resume exercise after about three weeks.
As with other surgical procedures, some complications are possible and may include blurred vision, swelling, bruising and itching.
I am so grateful for what Dr. Goldberg did for my eyes. They look fabulous! Dr. Goldberg was honest, and took the time to explain every step. I had complete confidence him, and now the results speak for themselves. He is not only talented and skilled, but a marvelous doctor as well. I would recommend him to anyone interested in cosmetic surgery.

Anonymous

April 03, 2012

12345
Frequently Asked Questions (FAQs) About Eyelid Surgery
To help you in your research, Dr. Goldberg has provided answers to some of the most commonly asked questions about blepharoplasty. If you would like to know more, or if you're ready to schedule a consultation, please contact us today.
What is blepharoplasty?
Blepharoplasty, or eyelid surgery, is designed to rejuvenate and refresh the appearance of the upper and/or lower eyelids by reducing excess skin and minimizing puffiness and droopiness in the area. Due to genetic predisposition, the natural process of aging, and other factors, skin laxity can develop on the upper eyelids and drooping and/or puffiness can form on the lower eyelids. These effects can make individuals appear tired, sad, or older than their natural age. In some cases, severe ptosis (skin drooping) of the upper eyelids can even obstruct vision. By using state-of-the-art techniques, Dr. Goldberg can address these concerns and achieve a younger-looking, more rested outcome.
How is the procedure performed?
Dr. Goldberg customizes the procedure to best suit the needs and goals of the individual. Some people may only desire upper eyelid surgery, and others only lower. In many instances, both areas will be addressed in the same operation. Excess skin and fat will be trimmed and removed, some fatty tissue may be repositioned, and sagging muscle might also be trimmed or tightened. Care is used to ensure the incisions are placed as inconspicuously as possible. This surgery typically takes about one to three hours to complete, depending on the unique details of the treatment plan, and most patients can return home the same day.
Will there be any visible scars?
Once healed, the incisions are often virtually unnoticeable. Dr. Goldberg utilizes very fine sutures that help the incisions to heal smoothly. For upper eyelid surgery, incisions can be concealed in the natural eyelid crease or fold. For lower eyelid surgery, a transconjunctival technique may be used, which places the incision on the inside of the lower eyelash line. As a result, the scars from this procedure are practically invisible. While the marks may be visible for a short while after the operation, with time they should fade in color and become smoother and less perceptible.
At what age should eyelid surgery be performed?
There is no specific age range for when blepharoplasty should be performed. Each patient has unique anatomic indicators, and everyone experiences the natural aging process a little differently. In general, this procedure will be performed on patients that are age 35 or older. However, age is often a secondary concern. If you think blepharoplasty may be right for you, Dr. Goldberg can evaluate your concerns, review your medical history, and discuss your goals to determine if you are an ideal candidate for this treatment. If you are not ready for eyelid surgery, non-surgical treatments may be effective in helping you achieve your desired outcome.
Will insurance cover blepharoplasty?
The skin of the upper eyelids may become so inelastic that the tissue folds over the eye, obscuring vision. If this describes your experience, your medical insurance may partially cover the cost of your eyelid surgery. The amount of visual impairment will need to be documented, and Dr. Goldberg will work closely with your ophthalmologist to determine the appropriate treatment. Not all insurance policies cover the same techniques, and we recommend you speak with your agent to clarify your level of coverage.
What should I expect after surgery?
After the procedure is complete and you return home, we recommend that you relax and take time off work for about 10 days. You should keep your head elevated as much as possible the first few days. Soon after surgery you may notice that your eyes feel a little sore or tight, and these effects are normal. Some swelling and bruising are also to be expected, and using cold compresses can help to reduce your discomfort. Additionally, we will provide prescription medication to make your recovery as pleasant as possible. It's important to note, you should not wear contact lenses for at least two weeks after eyelid surgery, and you should avoid strenuous exercise for about three weeks.
When will I be able to return to work?
Most patients are able to return to work after about 10 days. Everyone heals at a different rate, however, and Dr. Goldberg will advise you about whether you can return a little earlier or if you should wait a little longer before engaging in regular activities again.
When will I be able to see the results?
Some people, depending on their treatment plan and unique condition, may be able to see some signs of improvement soon after surgery. In most cases, however, results will take several weeks and months to appear. Swelling should gradually decrease, and the final outcome should be visible after about six to 12 months. It's not unusual to still have some bruising and noticeable swelling after four to six weeks. If you ever have any questions about your procedure or recovery, we encourage you to reach out to us for more information.
How long do the results last?
While blepharoplasty can "turn back time," in a manner of speaking, and give individuals a more youthful appearance, the clock continues to move forward. Some of the factors that can affect the duration of eyelid surgery results include genetic and lifestyle influences. It's possible to maintain your outcome for as long as 10-15 years or perhaps more in some instances, particularly if you take good care of your skin. Dr. Goldberg recommends using sunscreen daily and avoiding smoking.
For more information about eyelid surgery procedures, call our office for a complimentary consultation at 914-840-5999.
*Individual Results May Vary