WHAT IS BREAST REVISION?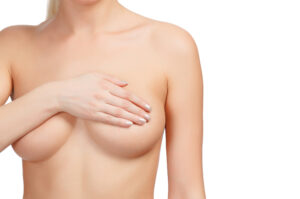 Revision breast surgery is designed to modify and improve upon the results of a previous surgical breast enhancement procedure. In some cases, this second operation may be requested due to the patient's dissatisfaction with the original outcome, required for medical reasons, or performed in order to remove the breast implants entirely. Our experienced plastic surgeon, Dr. Neal Goldberg, performs revision breast surgery for individuals who wish to replace or remove their breast implants. Most women will choose to replace their implants with another size or type, or they may seek a breast lift following the removal of their implants.
WHEN SHOULD I CONSIDER BREAST REVISION SURGERY?
A breast revision procedure can help resolve asymmetry between the breasts, or replace older implants to achieve a better breast shape and contour. This cosmetic surgery can also allow patients to upgrade their current implants to a more favorable type, shape, or size. In addition to personal choice, there are several medical indicators that may necessitate breast implant removal, such as disease, surgery complications, or trauma. Some of the known complications associated with breast implants include:
Skin rippling
Unsatisfactory nipple position
Capsular contracture
Torn, deflated, or ruptured implant
Implant displacement
It is typically recommended to wait four to six months after a primary breast augmentation to allow the breasts time to completely settle before pursuing breast revision. However, Dr. Goldberg can evaluate your concerns and make a recommendation based on your unique situation.
WHAT ARE MY BREAST REVISION OPTIONS?
Saline to Silicone Breast Implant Exchange
Whether a patient seeks new breast implants to resolve a complication or simply due to personal preference, breast implant replacement is the most common reason for revision surgery. Many women choose to exchange their saline implants to a silicone gel-filled material, which is typically considered a more natural-looking choice for breast enhancement when compared to saline. Newer implant shapes are also generally composed of silicone gel, prompting some individuals to seek breast revision in order to achieve an improved breast contour. During surgery, Dr. Goldberg can access your implants through the same incision used in your primary breast augmentation.    
Breast Implant Size Revision
As the body changes over time, the desire to achieve a new implant size more proportional to a patient's body frame—or more consistent with their aesthetic desires—is also prevalent. If you wish to upgrade to larger implants, Dr. Goldberg will expand the space around the implants to accommodate the new size. Conversely, he will reduce the breast pocket with sutures if a smaller implant is desired, helping minimize the chances of displacement. If the skin has grown inelastic or has been stretched out by the original implant placement, a breast lift combined with revision surgery may be recommended.  
Breast Implant Removal
Some patients may also opt to remove their breast implants without the desire for replacements. Extracting breast implants without exchanging them or receiving a secondary breast lift procedure—especially after many years of having implants—may lead to an unsatisfactory aesthetic result. Breast augmentation typically requires stretching of the breast tissue to accommodate the newly placed implants. Consequently, the skin often cannot shrink back to the original size when implants are withdrawn. Although some patients' breasts may return to their previous shape, a second procedure, typically an implant replacement or breast lift, will often benefit most individuals seeking to restore their appearance. Dr. Goldberg will recommend a method that can offer the best possible results based on patient needs and expressed goals.
WHAT CAN I EXPECT FROM BREAST REVISION SURGERY?
Breast implants can often be removed through the same incisions in which they were first inserted. Typically a straightforward procedure, breast revision surgery generally takes approximately one hour to complete, depending on the complexity of the situation and the patient's unique needs. General anesthesia or intravenous sedation is utilized. Breast revision techniques will vary based on your goals for surgery, and the best approach for your unique needs will be discussed while in consultation with Dr. Goldberg.
WHAT IS RECOVERY FROM BREAST REVISION SURGERY LIKE?
The healing process following breast revision is comparable to the recovery period from a primary breast augmentation. Patients who had their implants removed without replacement may experience a relatively milder recovery than individuals who exchanged their implants or who had a breast lift.
Like most surgical procedures, common symptoms after breast revision include swelling, bruising, and tenderness. Discomfort usually varies from patient to patient depending on the size and placement of the new breast implants (if they were utilized), but oral pain medication can generally manage these reactions well until they naturally subside. A compression bra will be worn temporarily to control swelling, prevent fluid buildup, and facilitate healing. Most individuals can return to their normal routine after several days, but strenuous activity should be avoided for at least six weeks. It can take up to six months for the breasts to fully "settle" after breast revision.
HOW MUCH DOES BREAST REVISION SURGERY COST?
The cost of breast revision heavily depends on which technique was used during surgery, as some goals require a more complex procedure than others. For example, a breast revision surgery designed to remove an implant and the surrounding scar capsule will cost more than a procedure intended to address concerns that are more easily resolved, such as implant rippling. The addition of a breast lift is also a factor that can increase the price of breast revision. Other cost determinants may include the price of the replacement breast implants, the anesthesia utilized, and the nature of your unique needs. While calculating an accurate cost estimate without an initial consultation is impossible, our team will fully inform you of your breast revision expenses when you visit our practice. Dr. Goldberg accepts plastic surgery financing arrangements through trusted lending institutions, such as CareCredit® and ALPHAEON® Credit, to make the cost of the procedure more affordable. Please don't hesitate to reach out to our practice if you have any questions about the price of breast revision.
For more information about breast revision surgery, or to speak with Dr. Goldberg in person, please contact us today.