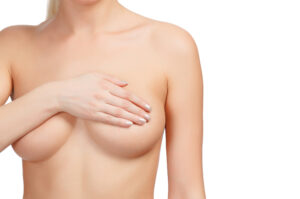 Revision breast surgery is designed to modify and improve upon the results of a previous surgical breast enhancement procedure. In some cases, this second operation may be requested due to the patient's dissatisfaction with the original outcome, required for medical reasons, or performed in order to remove the breast implants entirely. Our experienced plastic surgeon, Dr. Neal Goldberg, performs revision breast surgery for individuals who wish to replace or remove their breast implants. Most women will choose to replace their implants with another size or type, or they may seek a breast lift following the removal of their implants.
In addition to personal choice, there are several medical indicators that may necessitate breast implant removal, such as disease, surgery complication, or trauma. Some of the known complications associated with breast implants include:
Skin rippling
Unsatisfactory nipple position
Capsular contracture
Torn, deflated, or ruptured implant
Implant displacement
What to Expect from Breast Revision Surgery
Breast implants often can be removed through the same incisions in which they were first inserted. Typically a straightforward procedure, breast revision surgery generally takes approximately one hour to complete, depending on the complexity of the situation and the patient's unique needs.
After Breast Revision Surgery
Removing breast implants without replacing them or receiving a secondary breast lift procedure, especially after many years of having implants, may lead to an unsatisfactory aesthetic result. Breast augmentation typically requires that the breast tissue stretch to accommodate the newly placed implants. Without the implants, the skin often cannot shrink back to the original size. Although some patients' breasts may return to their previous shape, a second procedure, typically an implant replacement or breast lift, will often benefit most individuals seeking to restore their appearance. Dr. Goldberg will recommend a method that can offer the best possible results based on patient needs and expressed goals.
For more information about breast revision surgery, or to speak with Dr. Goldberg in person, please contact us today.