If you struggle with overly large breasts you can turn to Dr. Neal Goldberg for breast reduction procedures.
What is Breast Reduction?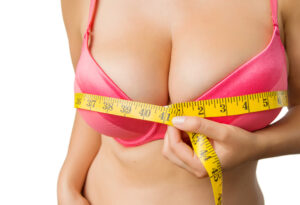 Overly large breasts can cause a number of unwanted effects. Many women seek out a breast reduction to halt these symptoms and to lead a more comfortable and confident life. Breast reduction surgery can help:
Reduce overly large breasts
Alleviate pain caused by overly large breasts
Lift and reshape breasts and areola
Improve the body's silhouette
Is breast reduction right for me?
A breast reduction, also called a reduction mammoplasty, is a procedure used to reduce the size of overly large breasts. If you struggle with overly large, pendulous breasts (breast hypertrophy or macromastia) you may additionally suffer from pain caused by the breasts and may be self-conscious about your body. The pain associated with overly large breasts may occur in the neck or shoulders, and this condition may cause inframammary fold infections.
3694 View Gallery If large, heavy breasts are limiting your mobility or causing you to experience pain in your back or shoulders while exercising or performing other daily routines, this procedure may be right for you. Breast reduction surgery is designed to relieve extra weight you may carry in your chest by reducing the size of your breasts. As an added benefit, this surgery can improve the overall shape of the breasts and their position on your chest. After your full recovery period and Dr. Goldberg's approval, you should be able to return to your exercise program and you will likely notice the difference very quickly.
My life has been drastically changed by my breast reduction. I could not have asked for a better doctor, and I could not be happier.
– S.D.
Can I have a Breast Lift With My Reduction?
A breast lift is technically part of most breast reduction procedures. Both of these treatment options result in a "lifting" effect once excess skin is removed and the breasts are reshaped. By reducing excess breast tissue and smoothing out the remaining skin, Dr. Goldberg can correct the breast ptosis (sagging) that is often present in overly large breasts and create results that look more youthful and "perky." During your initial consultation, our plastic surgeon will talk with you about your goals and create a treatment plan that can not only address the discomfort you may be experiencing with excessively large breasts, but also improve their appearance with beautiful, natural-looking results.
What can I expect from the procedure?
Breast reduction surgery is typically performed on an outpatient basis and takes approximately two to four hours to complete; however, the total length of time varies depending on each individual's unique needs and goals. You will spend some time in a supervised recovery, but should be able to return home the day of your surgery.
This illustration depicts a typical breast reduction procedure and outcome: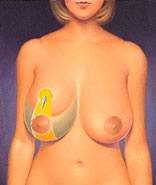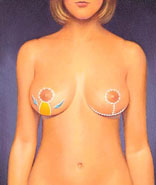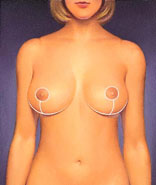 Dr. Goldberg will first create an incision, often shaped like an inverted "T" or anchor. The incision circles the areola and extends down to the breast crease. Excess skin, fat, and glandular tissue are then removed from the incision site. Liposuction is performed to remove any additional excess fat, and the nipple is reshaped and elevated, also lifting the breast. Dr. Goldberg will then use stitches to close the incision and cover the area with gauze and tape.
In some cases, our plastic surgeon may decide you are a good candidate for the vertical reduction technique. In this procedure, an incision is made around the areola extending vertically down the breast, somewhat resembling a "lollipop." If you undergo this technique, scarring may be dramatically reduced.
For my patients — and me, this is one of the most rewarding surgeries that I perform.
– Dr. Goldberg
What will my life be like after breast reduction?
Following surgery, you should expect a recovery period of one to two weeks. During this time, you will wear a surgical bra to aid in proper healing. Special surgical drains may be necessary to collect any fluid from the incision site. If you experience excessive aching, swelling, or bruising, Dr. Goldberg may prescribe pain medication. Be aware that swelling after the surgery can cause some loss of feeling in the nipples and breasts.
As with any surgical procedure, you need to be aware of possible complications. These may include bleeding, infection, sores, asymmetry of the breasts or nipples, and permanent loss of feeling in the breasts or nipples.
What Will My Scars Look Like?
This will vary widely based upon the technique Dr. Goldberg selects for your breast reduction. After discussing your goals in a consultation, he can recommend either a "lollipop" or "T" technique. If he selects the vertical "lollipop" reduction technique, the potential for scarring may be significantly reduced. This is due to the incision being made around the areola and down the breast. If Dr. Goldberg utilizes another surgical approach, he will apply advanced techniques combined with his considerable experience performing this procedure to minimize the appearance of scars as much as possible.
How Much Does Breast Reduction Cost?
Dr. Goldberg customizes every treatment plan to suit the individual needs of the patient. As a result, the price of a breast reduction can vary from person to person. Some of the factors that go into determining the cost of breast reduction include the complexity of the procedure, the technique used, and how much tissue is being removed. According to the American Society of Plastic Surgeons, the average cost of breast reduction in 2016 was $5,631. This number only reflects the surgeon's fee, and patients should be aware that the total cost will also include anesthesiology and medical facility fees, and potentially other expenses. During your initial consultation, our medical team will go over the estimated total for your program, including these additional fees. We believe this provides you with the best information you need to make a well-informed decision. If you would like to consider plastic surgery financing, we work with reputable lenders that offer appealing terms.
Will My Insurance Cover My Breast Reduction?
If you are considering breast reduction surgery and would like to know if your insurance provider will cover any costs, please contact your representative. Many of our patients have had at least partial insurance coverage for breast reduction procedures. This is often the case when the surgery is determined to benefit the patient by relieving back pain, remedying skin problems, or helping with other medical issues. If the patient would like breast reduction surgery, but is doing so to aesthetically change the appearance of their breasts, it is likely the insurance will not cover these costs.
Will Breast Reduction Affect Breastfeeding Ability?
Breastfeeding is a common issue for many women, and breast reduction techniques are available that can limit the risk of negatively affecting a patient's ability to nurse at a future date. Factors like incision location, amount of tissue removed, and whether the nipple remains attached to the milk ducts will influence the end result. It's important to remember that not all women are born with the ability to breastfeed; however, if you have successfully breastfed in the past, with the right reduction approach, you likely will be able to again. When you arrive for a consultation, talk to us about your interests and concerns, and we will go over all your options.
Is Breast Reduction Without Surgery Possible?
Many women are able to successfully reduce the size of their breasts through weight loss, using diet and exercise. If this method is ineffective for you, either due to discomfort or as a result of significant glandular tissue (rather than fatty tissue), which is not typically affected by weight gain or loss, surgery is the best option for reduction.
For more information about breast reduction surgery, call our office for a complimentary consultation at 914-840-5999.
*Individual Results May Vary
Hello everyone my name is Rita Manzueta I am 48 years old 5'4 and I was a 34DDD bra size imagine! All my life I suffered with aches and pain in my back, neck and dents on my shoulders from the bra straps.I was tired of going to physical therapy for back pain, chiropractors and massages. My life was miserable as I couldn't wear anything nice or revealing and I felt so ashamed since nothing seemed to fit right nor appropriate. Then a miracle happened, I met Dr. Goldberg and thankfully he has changed my life around. He reassured me that everything would change for me and he was absolutely right! I had a breast reduction and lift and I feel and look amazing. This has been the best decision I have made in my life because now thanks to Dr. Goldberg and the wonderful job he did I look and feel amazing my confidence and self esteem has risen beyond what i could had ever imagined. My family and my boyfriend are totally happy as they feel as and reassure me how great I look now which makes me even happier. Thank you Dr. Goldberg I am one very satisfied and pleased patient and highly recommend him as the best plastic surgeon Ever!!! I AM VERY HAPPY!!!! 🙂 Please see before and after photos attached!

Rita Manzueta

July 07, 2017

12345