Nasal Reconstruction
Home/ Reconstructive/Nasal Reconstruction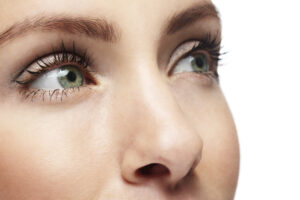 During nasal reconstruction surgery, a plastic surgeon works to correct deformities that affect the function and aesthetic aspects of the nose. Such disfigurements are often caused by skin cancer, trauma, or congenital deformities. Techniques used in this surgery include bone grafts, skin grafts, tissue expansion, microsurgery, and flaps.
What Signs and Symptoms Suggest Nasal Reconstruction?
If you have been affected by skin cancer, traumatic defects, or congenital deformities of the nose, you may want to consider nasal reconstruction.
I cannot believe how good my nose looks. It's a miracle!
– M.P.
What Happens During Nasal Reconstruction?
Nasal reconstruction is conducted using a variety of surgical techniques such as: bone grafts, skin grafts, tissue expansion, microsurgery, and flaps. Local or general anesthesia will be used, depending on the level of surgery.
The nose can be accessed for reconstruction through an incision at the bottom of the nasal columella (skin separating the nostrils), or from an incision(s) placed inside the nose. Dr. Goldberg will decide which approach to use depending on the location of the site to be reconstructed, as well as other factors such as specifications related to nose.
During nasal surgery, Dr. Goldberg will work to separate the skin from the bone and cartilage at the site requiring reconstruction. The framework of the nose, that is, the bone and cartilage, are the first to be treated. Bone grafts may be used to increase the bone structure, or removed depending on your surgery plan. Similarly, cartilage and skin will be either removed or added.
Tissue that is added to the site during reconstruction surgery may be donated tissue, a synthetic material, or tissue coming from a different location on your own body. Finally, Dr. Goldberg will redrape the skin over the site and closes the wound.
After Nasal Reconstruction
You can expect bruising, swelling, and slight bleeding for the first three days after surgery. Closely follow Dr. Goldberg's instructions on how to care for the wound site, apply ointment and change dressings as needed. Most patients can return to normal schedules within a week after surgery, and can resume with vigorous exercise after three weeks following surgery. A follow-up consultation is typically scheduled within the first 6-8 weeks.
For more information about nasal reconstructive surgery, call our office for a consultation at 914-840-5999.
*Individual Results May Vary