BOTOX® Cosmetic
Home/ Cosmetic Injectables/BOTOX® Cosmetic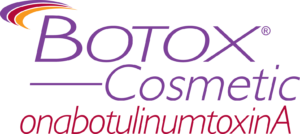 Most people know BOTOX® Cosmetic for its use in correcting frown lines and crow's feet. However, BOTOX® is used to treat a variety of conditions. BOTOX® Cosmetic can treat, for example, eye muscle problems, severe underarm sweating and migraines, while BOTOX® Cosmetic is injected into facial muscles to rejuvenate lines that have developed between the eyebrows, and around the eyes and mouth.
BOTOX® Cosmetic diminishes wrinkles because it blocks the nerve impulses to the muscle, thereby relaxing the muscle. Upon injection, tense muscles loosen up, allowing wrinkles to do the same. It is important to note that the effects of the procedure are not permanent; retreatment is usually required every 4 to 6 months.
Is BOTOX® Cosmetic Right for Me?
As noted, BOTOX® Cosmetic can be used to treat a number of physical conditions. However, injections are most commonly used in cosmetic treatment. Cosmetic complaints that BOTOX® can be used to treat are:
Glabellar lines
Crow's feet
Forehead lines
Vertical lines around the lips
Generally, my most satisfied patients are the ones where their friends tell them they look better but can't put a finger on what the change was."
– Dr. Goldberg
During BOTOX® Cosmetic Treatment
Injections are performed in an office setting and require as little as 15 minutes of your time. A topical anesthesia may be used to numb the area to be treated, though this is often not necessary.
After selecting the areas to be treated and their points of injection, your plastic surgeon will inject the BOTOX®. The dose used will be selected depending on the mass of the muscle being treated; larger muscles often require more BOTOX®.
Once injected, the substance targets the muscles' nerve endings, preventing the muscles ability to contract. Over the next days, the wrinkles that originally developed because of muscle tension begin to relax and disappear.
After Treatment
Individuals can return to their normal activities directly after treatment. Dr. Neal Goldberg may request that you refrain from alcohol consumption for the next few days, and remain upright for about 6 hours after treatment. Please contact our plastic surgeon if you notice any of the following symptoms: difficulty with swallowing, speaking, breathing, or if any existing symptom worsens. Most patients will need to return for treatments every 4-6 months.
Possible side effects include: redness, bruising, stinging around the injection sites, nausea, fatigue, flu-like symptoms, headache and eyelid droop.
BOTOX® Cosmetic FAQs
To help you make the best cosmetic decision for your needs and goals, Dr. Goldberg has provided answers to some of the most frequently asked questions about BOTOX® Cosmetic. If you have additional inquiries, we encourage you to reach out to our friendly and knowledgeable medical team.
What areas of the face can BOTOX® Cosmetic treat?
Designed to soften the appearance of fine lines and wrinkles, BOTOX® injections can be administered to several areas of the face. Dr. Goldberg most commonly uses BOTOX® Cosmetic on the forehead, between the brows (glabellar lines), in the eye area (crow's feet), and around the lips. Every treatment is customized to suit your unique anatomic needs and expressed goals, and Dr. Goldberg will discuss the best approach and ideal injection sites during your initial consultation.
How long does treatment take?
This non-surgical treatment can be completed quite quickly, and many patients choose to have this procedure done on their lunch break. In many cases, BOTOX® Cosmetic can be performed in as little as 30 minutes or potentially even less, although your experience may vary.
Does it hurt?
We take great care to provide you with the best, most comfortable experience possible. While most patients report little to no pain, we can provide a local anesthetic and cold compresses to help minimize discomfort, if desired.
Are there side effects or downtime?
Side effects from BOTOX® Cosmetic typically will be minimal and may include minor bruising, swelling, and redness at the injection sites. In rare instances, some individuals may experience mild nausea or flu-like symptoms, although these experiences are uncommon. Symptoms should dissipate quickly. Recovery should be brief, and most patients can return to normal activity immediately after treatment.
How soon will I see results?
The effects of BOTOX® Cosmetic should begin to be noticeable after a few days and full results should be visible after about two weeks. Many patients opt to have BOTOX® injections about one week or so before a special occasion; however, almost any time is a good time for non-surgical facial rejuvenation.
How long do results last?
BOTOX® injections offer temporary improvement in the appearance of fine lines and wrinkles. The length of results will vary from person to person based on a number of factors, but in general the effects should continue for about three to six months. Patients can extend the length of the benefits with occasional retreatment. Some people find that long-term use of BOTOX® Cosmetic can provide longer-lasting reduction of facial creases.
What other non-surgical facial rejuvenation options are there?
In addition to BOTOX® Cosmetic, a multitude of minimally invasive treatments are available to help minimize common signs of aging, including dermal fillers like JUVÉDERM® and Restylane® and options such as laser skin resurfacing. Dr. Goldberg will recommend additional modalities during your initial consultation if you are interested in alternatives to BOTOX® Cosmetic or supplementary procedures.
For more information about BOTOX® Cosmetic procedures, call our office for a complimentary consultation at 914-840-5999.