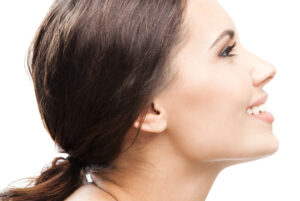 With a neck lift or neck liposuction, our board-certified plastic surgeon can improve the appearance of your neck and jaw area. The technique that is right for you depends on factors such as your age, skin quality, and related neck conditions. Dr. Goldberg offers these surgeries for patients who want a more youthful neck.
Am I a Good Candidate for Neck Contouring?
3709 View Gallery Patients who undergo a neck lift desire a reduction in excess fat or loose skin around the neck, chin and jaw. When loose tissue or fat collects in this area, it often hides the youthful angles of your jaw. If you are bothered by neck fat or sagging neck skin, you may want to consider this surgery with Dr. Goldberg.
Ideal aesthetic qualities of the neck may differ by gender, but many people say they find these characteristics visually appealing:
Well defined jaw line
Proud yet proportional chin
Absence of neck fat and folds
Narrow, relatively long neck
Through neck contouring, Dr. Goldberg can restore a sharper, more angular transition from the jaw to the neck, while reducing the appearance of jowls and skin folds.
Generally, my most satisfied patients are the ones where their friends tell them they look better but can't put a finger on what the change was. I might have done a neck lift, but their friends insist it's the hairstyle or the outfit they're wearing.
– Dr. Goldberg
How Neck Contouring Works
Men or women who are relatively young with good skin elasticity may benefit from liposuction of the neck area. The excess fat is removed with suction and the skin shrinks to reveal the slimmer neck.
For patients of advancing age, a neck lift may be the best choice. Sagging tissue in the neck is often caused by loose skin or sagging muscle. In a technique similar to a facelift, Dr. Goldberg will trim excess skin and possibly fold (or partially remove) the sagging muscle. This technique may also involve liposuction.
Life After Neck Contouring: What to Expect
Recovery from surgery will vary for each patient. Most patients who undergo liposuction are advised to wear a compression garment on the neck or chin for a few weeks. You may want to wear a scarf or turtleneck until the signs of surgery are healed and gone.
Physical activities will need to be limited for 2 – 3 weeks; that means no bending, lifting or rigorous exercise. Showering and hair washing is usually permitted the day after surgery. Always follow Dr. Goldberg's specific instructions during your recovery and throughout your post-operative follow-up visits.
Dr. Goldberg treats patients from many communities in Westchester and beyond. For more information about neck lift and neck contouring surgery, call our office for a complimentary consultation at 914-840-5999.
*Individual Results May Vary