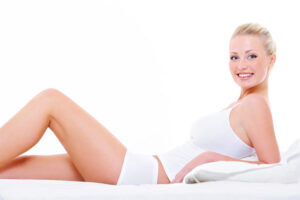 As a means of removing excess skin and fat following weight loss, Dr. Neal Goldberg is proud to offer body contouring to his patients. Body Contouring can help you:
Remove excess fat and skin after weight loss
Create a more aesthetically pleasing silhouette
Is body contouring right for me?
After losing a large amount of weight, the excitement patients often feel can be dampened by the reality of excess skin and fat hanging from the body. In these cases, additional diet and exercise will not remove the skin and fat and patients must turn to body contouring techniques to fully realize their new physiques.
Using a combination of excision to remove excess skin and liposuction to remove stubborn fat deposits, Dr. Goldberg contours the patient's body to create the desired effect. The ideal candidate for body contouring should be at a stable weight following proper diet and exercise and have adequate skin tone and elasticity. Some older patients may need more than one procedure to remove all of the loose skin.
Your expertise put me back in my dancing shoes. It was appreciated more than you know. You are a perfectionist.
– F.B.
What areas of my body can I have contoured?
For many areas of the body where stubborn fat deposits are found, liposuction can be used for slenderizing purposes. In liposuction, small incisions are first made. Through these incisions, Dr. Goldberg will insert a thin tube, called a cannula, which is connected to a vacuum-like device. The fat is then suctioned from the area and the incisions are closed. Compression garments are then applied to aid in healing.
When excess skin hangs around the stomach, the patient will often under go a tummy tuck procedure. When a tummy tuck (also known as abdominoplasty) is performed skin is removed from the lower abdomen and skin from the upper abdomen is then pulled down. The excess skin is removed and the incision is closed leaving an opening for the umbilical stalk. our plastic surgeon may tighten the abdomen wall (particularly the lower abdomen) with multiple sutures.
While a tummy tuck tightens the skin and muscle of the abdomen, a panniculectomy only removes excess skin without tightening the abdominal wall. This procedure is often performed in cases of extreme obesity.
Arm lift and thigh lift surgery may be performed in a fashion similar to a tummy tuck or panniculectomy. Dr. Goldberg will remove excess skin from the troublesome area and tighten the remaining skin to slim the area of the body.
Every time a patient comes to my office, they're going to see me. That's every step of the way, from the initial visit to having their stitches removed and everything in between.
– Dr. Goldberg
What will my life be like after body contouring?
For most of these procedures, you should expect a recovery time of up to two weeks and may be required to wear compression garments during this time to aid in healing. You should also be aware that some scars may be visible from areas where skin is excised.
As with any surgical procedure, you should be aware of some possible complications and risks. These may include unmet expectations, infection, healing problems and possible implant issues such as rupture or shift.
Cosmetic surgeon Neal Goldberg treats patients from Scarsdale, Dobbs Ferry, Yonkers and many other communities in Westchester, Bergen, and lower Fairfield County. For more information about Body Contouring, call our office for a complimentary consultation at 914-722-1600.
*Individual Results May Vary