KYBELLA® for Double Chin Treatment
Home/ Cosmetic Injectables/KYBELLA® for Double Chin Treatment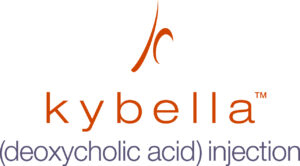 Excess fat can accumulate virtually anywhere on the face or body, including directly under the chin. Submental fat, commonly called a "double chin," can be one of the most difficult types of fatty tissue to eliminate regardless of your fitness level. Board certified plastic surgeon, Dr. Neal Goldberg, often uses liposuction to address this concern. However, there is a minimally invasive treatment available that can reduce the appearance of a double chin and help patients achieve their cosmetic goals—without surgery. KYBELLA® is an innovative injectable that is FDA-approved to break down submental fat and improve facial contour. During your initial consultation, Dr. Goldberg can determine if KYBELLA® can help you attain the results you're looking for.
Is KYBELLA® right for me?
Every patient's anatomic characteristics and cosmetic goals are unique, so it's important to determine if KYBELLA® or another treatment can offer you the optimal results. One of the best ways to do this is to schedule a consultation with an experienced and extensively trained plastic surgeon like Dr. Goldberg. KYBELLA® works best for patients who have good skin quality and excess fatty tissue under the chin that is resistant to diet and exercise. You should also be at least 18 years old and have reasonable expectations for the outcome. Dr. Goldberg will go over these considerations with you during your first meeting and discuss your options.
How does KYBELLA® work?
KYBELLA® is designed to break down fat cells so they can be metabolized by your body in the normal fashion. The formula is made of a substance called deoxycholic acid that occurs naturally in the body and is used to break down fatty tissue. Once administered, KYBELLA® should gradually break down fat in the targeted area while leaving the surrounding tissue unharmed. As a result, it's very important that you have relatively firm, elastic skin, as this procedure does not tighten skin. If you have excess skin as well as fat, Dr. Goldberg may recommend an alternative or supplementary procedure to optimize your outcome.
What is the procedure like?
Similar to other injectable treatments, KYBELLA® is administered using an ultrafine needle into a series of targeted locations under the chin. For the safest, most effective results, a board certified plastic surgeon should be the one performing this treatment. Only physicians are currently approved to provide this service. The procedure can often be completed in as little as 20 minutes, although your experience may vary. Although the process can be quick, we recommend patients return home and rest for the remainder of the day and perhaps the day after, depending on how they feel.
What should I expect during recovery?
Many patients choose to take a day or two off from work and regular activities after receiving KYBELLA®. Subsequently, you should be able to go about your routine normally without restrictions. Some bruising, mild to moderate swelling, and tenderness at the injection sites are normal effects and they should fade quickly. Results can begin to be seen after about two or three weeks, with the final results visible after a few months.
Does the procedure hurt?
Minimal discomfort is reported during the treatment, and we can provide ice packs and topical and/or local anesthetic to help make this process more comfortable. Soon after the procedure you may feel some pain, which can often be easily managed with over-the-counter analgesics like Tylenol®. Some patients also experience some numbness the first couple of days, which should subside relatively quickly. Tenderness may be noticeable for several weeks as the active substance works on the unwanted tissue. Compared with liposuction, the most common technique used to reduce excess fat, recovery from KYBELLA® is reported to be much faster and more comfortable, but each person's experience will be unique.
How long will the results last?
A long-lasting result is one of the many potential benefits of KYBELLA®. If you maintain a healthy lifestyle and body weight, you should not require retreatment. Some people can benefit from a second procedure, but many individuals find that one treatment session achieves their cosmetic goals.
Are there alternatives to KYBELLA®?
Non-surgical body contouring options are available, although generally they cannot achieve the same level of fat reduction as KYBELLA®. Through our medical spa, patients have access to a wide range of minimally invasive and non-surgical options. For more significant fat reduction, liposuction is often the best technique. If excess skin is present, a neck lift with liposuction may be the ideal approach. Dr. Goldberg will review all your options and provide professional guidance to help you make the ideal decision for your desired outcome and anatomic needs.   
If you would like to know more about KYBELLA® and double chin reduction, please contact our practice today.