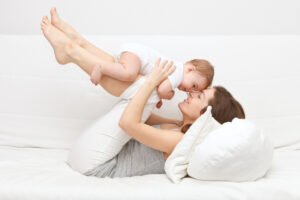 Becoming a mom can cause several unwanted changes in your body shape. Fortunately, there are ways to address these aesthetic concerns and restore your ideal figure. If you're concerned with sagging, stretched-out skin and stubborn fat after childbirth, a Mommy Makeover with board-certified plastic surgeon Neal Goldberg, MD may be right for you.
A Mommy Makeover is a series of surgical procedures that primarily work to restore a youthful appearance in the body and breasts. Some patients aim to recreate their pre-pregnancy body, while others simply wish to address multiple aesthetic concerns in one treatment plan. The results can be very transformative, with some women remarking that they look and feel more attractive after surgery than they did before childbirth. The customized treatment plan is developed based on an open discussion of what you hope to achieve, which allows Dr. Goldberg to personalize a Mommy Makeover according to each patient's goals. 
Is a Mommy Makeover Right for Me?
A Mommy Makeover can benefit any patient who would like to improve the unfavorable changes caused by aging, pregnancy, or weight fluctuation, which typically include depleted breast volume, a loss of shape in the breasts, fat accumulation, the development of excess skin, and lax abdominal musculature. General requirements for any cosmetic surgery include: 
Good physical health, with no uncontrolled medical conditions that may inhibit healing
Realistic expectations and a positive outlook of what can be achieved with a Mommy Makeover
The willingness to stop smoking for a period of time before and after surgery
Although the treatment plan is called a "Mommy Makeover," this surgical option can be a solution for any patient who wishes to aesthetically enhance more than one region of the body — even if they do not necessarily have children. Dr. Goldberg can further advise you on the best procedures to achieve your goals after evaluating your concerns in person. 
What are My Treatment Options in a Mommy Makeover?
3696 View Gallery Since every woman's body is uniquely affected by pregnancy and/or breastfeeding, a Mommy Makeover is tailored for your needs and desires. During a consultation with Dr. Goldberg, you both can create a plan for surgery that addresses your individual concerns.
For most patients, a Mommy Makeover will include some combination of:
Tummy Tuck Surgery: Abdominoplasty is frequently incorporated into a Mommy Makeover to repair muscles that have been stretched or weakened by pregnancy. A tummy tuck can correct a bulging or hanging abdomen by tightening these separated muscles and removing excess skin. 
Liposuction: Liposuction can also be performed to smooth your body contours, addressing targeted fatty areas on nearly any body part, including the tummy, back, thighs, hips, or buttocks.
Breast Augmentation or Breast Lift Surgery: Many patients lose breast volume after pregnancy and develop breast droop to some extent. In such cases, a breast augmentation would be performed in combination with breast lift surgery to rejuvenate the breast contours and minimize sag, if necessary.
The procedures above treat the regions most affected by pregnancy and nursing, such as the breasts and the body contours. That said, other treatment options like labiaplasty or non-surgical laser skin resurfacing can also be added to a Mommy Makeover plan depending on your unique goals. In fact, minimally invasive treatments and med spa services are often the perfect non-surgical complements to reduce wrinkles and minimize facial aging. 
Thanks for your kindness and care with my 'makeover'. You are a truly gifted surgeon who cares deeply about his patients.
– M.B.
What is Recovery From a Mommy Makeover Like?
The recovery period for each patient varies depending on the details of their Mommy Makeover. In general, you can expect swelling, bruising, tenderness, soreness, and weakness during the first week of your recovery. Dr. Goldberg recommends enlisting help for household chores, pick-ups and drop-offs, and child supervision in the initial stages of the healing process so you can fully focus on regaining your strength. He will provide detailed post-operative instructions so you will be thoroughly educated on activity restrictions, wound care, and what to expect during the recovery period. 
The types of procedures chosen will greatly affect how long your recovery lasts — more invasive procedures like tummy tuck surgery, which repairs the internal musculature in the lower abdomen, will generally result in a longer healing period when compared to liposuction and other treatment options that require shorter incisions. For some patients, a Mommy Makeover may also be completed in stages rather than during one procedure, which will require multiple recovery periods. You and Dr. Goldberg will discuss all of these details during your consultation. 
How Much Does a Mommy Makeover Cost?
As a highly personalized treatment plan tailored to each person's needs, the cost of a Mommy Makeover varies widely. In general, the price of a Mommy Makeover near New York City and Westchester will range from $9,500 to $22,000 according to factors like:
The types of procedures chosen 
The surgical techniques utilized
Whether breast implants were placed during surgery
The complexity of your treatment plan
After Dr. Goldberg gains an understanding of your goals and desires in a consultation, he will be able to provide you with a more accurate cost estimate. At our practice, plastic surgery financing through CareCredit® or ALPHAEON™ Credit is always available for qualified patients who would like to better manage their Mommy Makeover costs. With flexible payment plans and low- to no-interest rates for approved candidates, these healthcare lending companies can offer arrangements that accommodate virtually any budget. Please don't hesitate to call our office if you have any questions about the cost of a Mommy Makeover. 
Additional Mommy Makeover Faqs
The following are some of the most common patient questions asked regarding the Mommy Makeover process. Each person has her own unique set of concerns, so please contact us if you would like any additional information or clarification about a Mommy Makeover. In most cases, scheduling a consultation with Dr. Goldberg can be the best way to learn about how a Mommy Makeover may help you achieve your goals. 
How long does a Mommy Makeover take?
Is it a good idea to combine plastic surgery procedures?
When can I exercise after the surgery?
Does Mommy Makeover require a hospital stay?
How can I minimize scars after my Mommy Makeover?
Dr. Neal Goldberg treats patients from Scarsdale, Yonkers, and many other communities in Westchester, Bergen, and lower Fairfield County. For more information about Mommy Makeovers, call our office for a complimentary consultation at 866-481-5585.