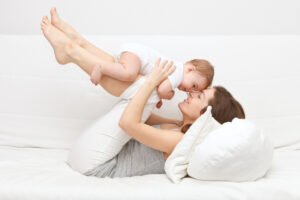 Becoming a mom can bring several unwanted changes in your body shape, but fortunately there are ways to address these problems and restore your beautiful figure. If you're concerned about sagging, stretched-out skin and stubborn fat after childbirth, the Mommy Makeover with plastic surgeon Dr. Neal Goldberg may be right for you.
A Mommy Makeover is a series of surgical procedures that primarily work to restore a youthful appearance in the body and breasts. In some cases, women say they "look and feel more attractive after the surgery than before childbirth."
Mommy Makeover Procedures
3696 View Gallery Because each mom's body is unique and affected differently by pregnancy, the Mommy Makeover is tailored for you. During a consultation with Dr. Goldberg, you can create a plan for surgery that will address your individual concerns.
For most patients, a mommy makeover will include:
Some women, for example, have lost breast volume in addition to breast droop. In such cases, a breast augmentation would be done in combination with breast lift surgery. Liposuction can also be tailored for your concerns, addressing targeted fatty areas on nearly any body part, including the tummy, back, thighs, hips or buttocks.
Thanks for your kindness and care with my 'makeover'. You are a truly gifted surgeon who cares deeply about his patients.
– M.B.
Mommy Makeover FAQ
The following are some of the most common questions asked about the Mommy Makeover. Each patient has her own unique set of concerns, so please contact us if you need more information.
How long does a Mommy Makeover take?
Is it a good idea to combine plastic surgery procedures?
When can I exercise after the surgery?
Does Mommy Makeover require a hospital stay?
How can I minimize scars after my Mommy Makeover?
Cosmetic surgeon Neal Goldberg treats patients from Scarsdale, Dobbs Ferry, Yonkers and many other communities in Westchester, Bergen, and lower Fairfield County. For more information about Mommy Makeovers, call our office for a complimentary consultation at 914-840-5999.
*Individual Results May Vary