Why Is Board Certification Important?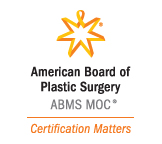 There's a lot to think about when considering cosmetic surgery. And one of the most important decisions will be selecting whom you want to perform the operation. While many types of surgeons can perform plastic surgery, not all of them have the same level of experience and training. Confirming that the surgeon is certified by the American Board of Plastic Surgery (ABPS) is one method of ensuring he or she has the necessary skill and the appropriate credentials to provide you with the best medical care possible.
The ABPS is important for several reasons. This organization only certifies plastic surgeons who have gone through rigorous training, have proven experience (at least five years in an accredited surgical residency program), and have a degree from an accredited medical school. Additionally, the ABPS requires certified plastic surgeons to participate in continuing education and to retake and pass the exam every 10 years. As a result, a board certified plastic surgeon has the practical knowledge necessary to help reduce the risk of complications and maximize the opportunity for successful results.
In addition to board certification, there are several other factors you should consider when selecting a plastic surgeon, including medical memberships, willingness to answer your questions, and how you feel after the initial consultation. Dr. Neal Goldberg is certified by the American Board of Plastic Surgery. Additionally, he is a Fellow of the American College of Surgeons (FACS) and a member of the American Society of Plastic Surgeons (ASPS). He will listen attentively to your concerns and customize a treatment plan based on your unique needs and goals. He prioritizes safety, experience, and results with each patient he sees.
We believe that patient education is an essential part of the plastic surgery process, and we welcome your questions. If you would like to know more about board certification, please reach out to our friendly and knowledgeable medical team.