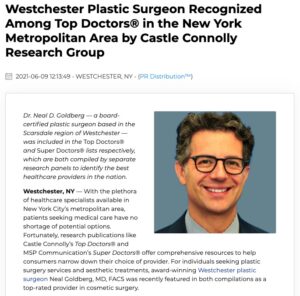 Dr. Neal D. Goldberg — a board-certified plastic surgeon based in the Scarsdale region of Westchester — was included in the Top Doctors® and Super Doctors® lists respectively, which are both compiled by separate research panels to identify the best healthcare providers in the nation.
Westchester, NY — With the plethora of healthcare specialists available in New York City's metropolitan area, patients seeking medical care have no shortage of potential options. Fortunately, research publications like Castle Connolly's Top Doctors® and MSP Communication's Super Doctors® offer comprehensive resources to help consumers narrow down their choice of provider. For individuals seeking plastic surgery services and aesthetic treatments, award-winning Westchester plastic surgeon Neal Goldberg, MD, FACS was recently featured in both compilations as a top-rated provider in cosmetic surgery.
While the Top Doctors® and Super Doctors® lists are compiled independently, both publications have similar selection processes. Those included on each catalog are first nominated by fellow doctors who believe their skill and ability to provide high-quality care are exceptional in their respective fields. The nominated pool of candidates are then thoroughly reviewed by a physician-led research team based on each person's level of experience, accomplishments, safety record, and reputation within their community. The remaining Top Doctors® contenders are identified and considered among the top 10 percent of physicians in the New York metro region, while the Super Doctors® finalists are among the top five percent of providers in their state.
At his locations in Scarsdale and Dobbs Ferry, Dr. Goldberg performs the entire range of facial plastic surgery, breast enhancement, and body contouring procedures. Breast augmentation and liposuction make up his most popular treatment options in addition to more complex aesthetic surgeries like rhinoplasty and tummy tuck surgery. Dr. Goldberg emphasizes a patient-focused treatment process and aims to achieve natural-looking results in the context of each person's cosmetic goals.
As a plastic surgeon certified by the American Board of Plastic Surgery (ABPS), Dr. Goldberg has appeared on the Top Doctors® list for two consecutive years and the Super Doctors® publication for three years running. He has been included in regional publications such as Westchester® magazine, and will be featured in the June issue of New York® magazine.
About Neal D. Goldberg, MD, FACS
Dr. Neal Goldberg is a board-certified plastic and reconstructive surgeon who specializes in aesthetic procedures. He is a two-time recipient of the Top Doctors® distinction and has been recognized among the top five percent of plastic surgeons in the state of New York. Dr. Goldberg is a Fellow of the American College of Surgeons and an active member of both the American Society of Plastic Surgeons (ASPS) and the New York Regional Society of Plastic Surgeons (NYRPS). In addition to his role as the lead surgeon at his private practice, Dr. Goldberg also holds hospital privileges at White Plains Hospital and St. John's Riverside Hospital. Dr. Goldberg is available for interview upon request.
To learn more, please visit doctorgoldberg.com or facebook.com/nealgoldbergmd.
Contact:
Neal D. Goldberg
495 Central Park Avenue
Scarsdale, NY 10583
(914) 722-1600
Rosemont Media
(800) 491-8623
www.rosemontmedia.com