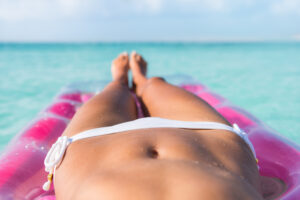 Many of the events we experience in life can affect the shape of our bodies. Weight gain and loss, pregnancy and childbirth, and the natural process of aging can alter the appearance of the abdomen. Excess skin in this area is one of the most common concerns for patients that Dr. Neal Goldberg sees. As an extensively trained plastic surgeon, he offers a range of surgical and non-surgical options to firm and tighten abdominal skin and achieve a more toned and youthful midsection.
Tummy tuck surgery, medically referred to as abdominoplasty, can reduce excess skin and tighten the underlying abdominal muscles. This is a popular approach for women who have had children and individuals who have lost significant weight. If fatty tissue is present as well as sagging skin, liposuction may be used to contour the body and further enhance the results.
If the degree of sagging is quite minimal, non-surgical techniques may be helpful. Dr. Goldberg works with a state-of-the-art medical spa that offers services like CoolSculpting® and PDO thread lifting. When you arrive for your initial consultation, we can help you determine if a minimally invasive method is right for you.