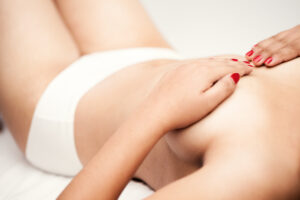 It's easy and fun to get excited about undergoing breast lift surgery with implants, especially if this procedure is something you've wanted for a long time. But while you're planning for the outcome, it's also important to become well informed about as much of the process as possible, particularly the recovery experience. Our board certified plastic surgeon, Dr. Neal Goldberg, takes the time to explain every step of the healing journey with each patient before the operation. While each woman is unique, many post-operative steps will apply to everyone.
Breast lift surgery recovery with or without implants begins the same way. In most cases, you should be able to return home a little while after the procedure is complete. You should spend about a week or two recovering before returning to work and normal activity—remember everyone heals differently, so listen to your body first. Some swelling and bruising is normal, and we will prescribe medication to manage any potential discomfort. Most patients report little pain.
For the first few weeks of recovery, you should avoid strenuous movements and lifting anything over about 10 pounds, approximately the weight of a heavy purse. This can help ensure your implants heal in the correct position. Depending on the type of breast implants you receive, Dr. Goldberg may recommend or advise against massaging your breasts. He will provide detailed instructions about this and other responsibilities during your consultation. After about three or four weeks, you should be able to begin exercising lightly, not including high-impact sports such as running. Mild swelling may continue for several months or longer, and though you will see a significant improvement in the appearance of your breasts soon after surgery, the final results might take about one year to become fully visible.
Breast lift surgery with implants can offer numerous benefits. Contact us today to find out more. We can answer questions and help you schedule a consultation with Dr. Goldberg.