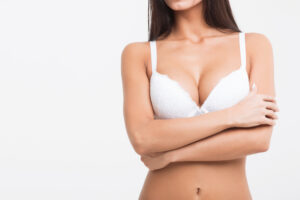 Mastopexy, commonly known as breast lift surgery, offers many benefits, and as a result is one of the most popular procedures at our practice. In this technique, the breasts are lifted higher on the chest to achieve a more youthful appearance and to remove excess tissue. Some patients also use implants to enhance the size and fullness of the breast. One potential drawback is that mastopexy usually requires larger and more noticeable incisions than a breast augmentation. Naturally, many patients wonder if they can achieve the same goals by enlarging the breasts alone.
For some patients, it may be possible to lift the breasts sufficiently with a breast augmentation; however, this only works in certain, rare cases. If you have a small amount of ptosis (droop) and are increasing your breast size enough, this outcome may be possible. If ptosis is more severe or if the desired increase in volume is inadequate, obtaining the desired outcome is unlikely with breast augmentation alone.
Dr. Neal Goldberg is dedicated to achieving exceptional results. He makes every effort to minimize scarring, and he offers scar reduction techniques if this is a concern for you. During your initial consultation, you and he can discuss your questions, cosmetic goals, and personal preferences to identify the ideal procedure for you.
Talk to us today to learn more about your breast surgery options.