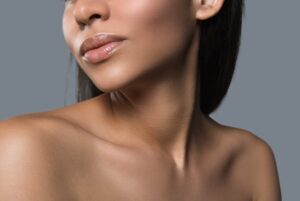 Fullness around the neck, commonly referred to as a "double chin," can be a particularly difficult region to shape with dieting and exercise alone. As excess fat deposits accumulate under the chin (known as the submental area), these fat cells can be resistant to efforts in toning or weight loss, often resulting in frustration for patients who fail to see their desired results despite the most rigorous exercise regimens. Board-certified plastic surgeon Neal Goldberg, MD understands how troublesome submental fat can be for individuals struggling to sharpen their facial profile. At our Westchester and NYC-area practice, he offers both surgical and non-surgical solutions that can help patients reduce a double chin without sacrificing natural-looking results. 
Surgical: Long-Lasting, Immediate Results
For those who would like to achieve results that are noticeable almost immediately and can last for virtually a lifetime, neck liposuction is considered the gold standard of treatment. This procedure uses tiny incisions to suction out excess fat deposits, leaving behind a slimmer and more defined neck contour. While this option requires some downtime, results are often readily apparent and very enduring long-term. The outcome is most successful for patients who have little to no skin laxity under their chin. 
Non-Surgical: Results Unfold Over Time, Zero Recovery
Alternatively, individuals who would rather forgo the inconveniences of surgery and recovery time can still enhance their neck contour with KYBELLA®—a cosmetic injectable FDA-approved for double chin reduction. KYBELLA® utilizes the power of deoxycholic acid, its main ingredient, to break down fat cells at the injection site(s), allowing the destroyed fat to be naturally metabolized by the body. This technique does not require any anesthesia, outpatient procedures, or extensive downtime. That said, results generally take a few weeks to months to unfold and may not be as long-lasting as a surgical procedure. 
To learn more about our fat reduction treatment options, please contact Dr. Neal Goldberg to schedule a consultation.