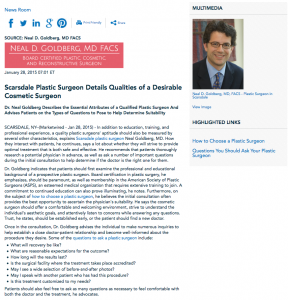 Dr. Neal Goldberg describes the essential attributes of a qualified plastic surgeon and advises patients on the types of questions to pose to help determine suitability.

Scarsdale, NY—In addition to education, training, and [baslider name="homeslider1″]professional experience, a quality plastic surgeons' aptitude should also be measured by several other characteristics, explains Scarsdale plastic surgeon Neal Goldberg, MD. How they interact with patients, he continues, says a lot about whether they will strive to provide optimal treatment that is both safe and effective. He recommends that patients thoroughly research a potential physician in advance, as well as ask a number of important questions during the initial consultation to help determine if the doctor is the right one for them.

Dr. Goldberg indicates that patients should first examine the professional and educational background of a prospective plastic surgeon. Board certification in plastic surgery, he emphasizes, should be paramount, as well as membership in the American Society of Plastic Surgeons (ASPS), an esteemed medical organization that requires extensive training to join. A commitment to continued education can also prove illuminating, he notes. Furthermore, on the subject of how to choose a plastic surgeon, he believes the initial consultation often provides the best opportunity to ascertain the physician's suitability. He says the cosmetic surgeon should offer a comfortable and welcoming environment, strive to understand the individual's aesthetic goals, and attentively listen to concerns while answering any questions. Trust, he states, should be established early, or the patient should find a new doctor.

Once in the consultation, Dr. Goldberg advises the individual to make numerous inquiries to help establish a close doctor-patient relationship and become well-informed about the procedure they desire. Some of the questions to ask a plastic surgeon include:
What will recovery be like?
What are reasonable expectations for the outcome?
How long will the results last?
Is the surgical facility where the treatment takes place accredited?
May I see a wide selection of before-and-after photos?
May I speak with another patient who has had this procedure?
Is this treatment customized to my needs?
Patients should also feel free to ask as many questions as necessary to feel comfortable with both the doctor and the treatment, he advocates.

Ultimately, Dr. Goldberg believes that developing a familiar, trusting relationship with a plastic surgeon can be just as important as selecting a physician for his or her professional credentials. Direct involvement, a compassionate philosophy, and a desire to help achieve the patient's unique aspirations, he says, are the keys to choosing the right plastic surgeon.

About Neal Goldberg, MD, FACS

Certified by the American Board of Plastic Surgery, Dr. Goldberg has been practicing in the Scarsdale and Dobbs Ferry area since 2004. He received his undergraduate degree from the Wharton School of Business at the University of Pennsylvania, and he earned his medical degree from the New York University School of Medicine. He completed additional training in general surgery at the University of Texas as well as in plastic surgery and reconstructive surgery at the Albert Einstein College of Medicine at the Montefiore Medical Center.

At his practice, Dr. Goldberg offers an extensive variety of cosmetic treatments and procedures ranging from breast augmentation and liposuction to facelift and injectables. In addition to being an active member of several esteemed medical associations, including the American Society of Plastic Surgeons (ASPS), he is also a Fellow of the American College of Surgeons. Dr. Goldberg is available for interview upon request.

For more information about Dr. Goldberg and his practice, please visit doctorgoldberg.com.

Contact:

Neal D. Goldberg, MD FACS

Scarsdale Office:
495 Central Park Ave.
Scarsdale, NY 10583
(914) 722-1600

Dobbs Ferry Office:
128 Ashford Ave.
Dobbs Ferry, NY 10522
(917) 722-1600

Rosemont Media
(858) 200-0044
www.rosemontmedia.com