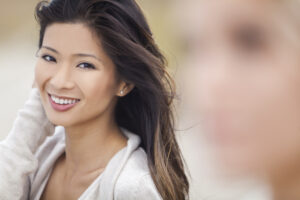 The delicate skin of the upper eyelids can be particularly susceptible to the natural aging process, leading to skin laxity, puffiness, and drooping in these areas. Furthermore, genetic predisposition and certain lifestyle habits may exacerbate these concerns. Our board certified plastic surgeon performs blepharoplasty, also known as eyelid surgery, to address these issues. Dr. Neal Goldberg is extensively trained in the most advanced techniques, which are designed to provide a wide range of benefits with natural-looking results. If you're tired of looking tired (as well as stressed and older than you actually are), eyelid surgery may be able to help.
Upper blepharoplasty is designed to reduce excess skin on the upper eyelids and help you achieve a more youthful appearance. Other benefits of this procedure include:
Reduced excess fat (which can cause puffiness) in the upper eyelids
Improved vision (in the event skin laxity has impaired the full range of vision)
Fewer lines and creases on the upper eyelids
Typically long-lasting effects
Dr. Goldberg customizes each treatment plan to best serve the needs and goals of the patient. Subtle or dramatic results may be achieved, depending on your desired outcome and unique condition. Asymmetry of the eyelids may also be corrected with this procedure, and Dr. Goldberg can provide more details during your initial consultation. For more information, we encourage you to reach out to our friendly and knowledgeable team.