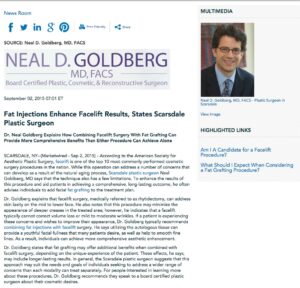 Dr. Neal Goldberg explains how combining facelift surgery with fat grafting can provide more comprehensive benefits than either procedure can achieve alone.
Scarsdale, NY — According to the American Society for Aesthetic Plastic Surgery, facelift is one of the top 10 most commonly performed cosmetic surgery procedures in the nation. While this operation can address a number of concerns that can develop as a result of the natural aging process, Scarsdale plastic surgeon Neal Goldberg, MD says that the technique also has a few limitations. To enhance the results of this procedure and aid patients in achieving a comprehensive, long-lasting outcome, he often advises individuals to add facial fat grafting to the treatment plan.
Dr. Goldberg explains that facelift surgery, medically referred to as rhytidectomy, can address skin laxity on the mid to lower face. He also notes that this procedure may minimize the appearance of deeper creases in the treated area; however, he indicates that a facelift typically cannot correct volume loss or mild to moderate wrinkles. If a patient is experiencing these concerns and wishes to improve their appearance, Dr. Goldberg typically recommends combining fat injections with facelift surgery. He says utilizing the autologous tissue can provide a youthful facial fullness that many patients desire, as well as help to smooth fine lines. As a result, individuals can achieve more comprehensive aesthetic enhancement.
Dr. Goldberg states that fat grafting may offer additional benefits when combined with facelift surgery, depending on the unique experience of the patient. These effects, he says, may include longer-lasting results. In general, the Scarsdale plastic surgeon suggests that this approach may suit the needs and goals of individuals seeking to address a wider range of concerns than each modality can treat separately. For people interested in learning more about these procedures, Dr. Goldberg recommends they speak to a board certified plastic surgeon about their cosmetic desires.
About Neal Goldberg, MD, FACS
Certified by the American Board of Plastic Surgery, Dr. Goldberg is a Fellow of the American College of Surgeons and practices in the Scarsdale, Dobbs Ferry, and Westchester, New York area. He received his undergraduate degree from the Wharton School of the University of Pennsylvania, where he graduated magna cum laude. Dr. Goldberg earned his medical degree from New York University School of Medicine, and he completed extensive medical training at Albert Einstein College of Medicine, the Jacobi Medical Center, and the US Army Brookes Burn Center. He is a member of several esteemed medical associations, including the American Society of Plastic Surgeons (ASPS) and the New York State Medical Society. Dr. Goldberg is available for interview upon request.
For more information about Dr. Goldberg and his practice, please visit doctorgoldberg.com and facebook.com/nealgoldbergmd.
Contact:
Neal D. Goldberg, MD, FACS
Scarsdale Office:
495 Central Park Ave.
Scarsdale NY 10583
(914) 722-1600
Dobbs Ferry Office:
128 Ashland Ave.
Dobbs Ferry, NY 10522
(917) 722-1600
Rosemont Media
(858) 200-0044
www.rosemontmedia.com