Scarsdale Plastic Surgeon Outlines Benefits of Fat Injections for Cosmetic Enhancement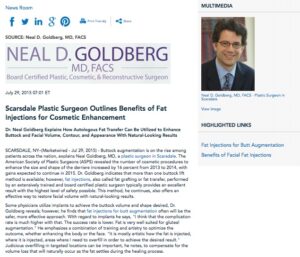 Dr. Neal Goldberg explains how autologous fat transfer can be utilized to enhance buttock and facial volume, contour, and appearance with natural-looking results.
Scarsdale, NY — Buttock augmentation is on the rise among patients across the nation, explains Neal Goldberg, MD, a plastic surgeon in Scarsdale. The American Society of Plastic Surgeons (ASPS) revealed the number of cosmetic procedures to enhance the size and shape of the derriere increased by 16 percent from 2013 to 2014, with gains expected to continue in 2015. Dr. Goldberg indicates that more than one buttock lift method is available; however, fat injections, also called fat grafting or fat transfer, performed by an extensively trained and board certified plastic surgeon typically provides an excellent result with the highest level of safety possible. This method, he continues, also offers an effective way to restore facial volume with natural-looking results.
Some physicians utilize implants to achieve the buttock volume and shape desired, Dr. Goldberg reveals; however, he finds that fat injections for butt augmentation often will be the safer, more effective approach. With regard to implants he says, "I think that the complication rate is much higher with that. The success rate is lower. Fat is very well suited for gluteal augmentation." He emphasizes a combination of training and artistry to optimize the outcome, whether enhancing the body or the face. "It is mostly artistic how the fat is injected, where it is injected, areas where I need to overfill in order to achieve the desired result." Judicious overfilling in targeted locations can be important, he notes, to compensate for the volume loss that will naturally occur as the fat settles during the healing process.
Buttock augmentation is one area in which fat injections can provide significant cosmetic enhancement, Dr. Goldberg informs, and another will be the face, which is often subject to volume loss as a result of the natural aging process. To restore a youthful fullness to the cheeks, contour the jawline, and reduce the appearance of nasolabial folds, the Scarsdale plastic surgeon says he utilizes a carefully honed approach. "I try to place the fat in extremely small quantities with multiple passes—to use a micro-droplet technique." He also suggests that how the fatty tissue is harvested and refined contributes to the quality of the results, saying, "I try to minimally process the fat to preserve its viability. I harvest it with a very atraumatic technique to, again, preserve the viability." He indicates that additional benefits of facial fat injections include duration of effects. Fat grafting, he explains, generally is considered to be a permanent procedure.
Ultimately, Dr. Goldberg wishes to emphasize the advantages of using fat injections, which can be combined with other aesthetic enhancement techniques, such as facelift, body contouring, and dermal fillers, to provide the optimal effect. He says that patients considering facial rejuvenation or buttock augmentation should speak with an experienced, board certified plastic surgeon about their needs and goals to determine if this method may be right for them. He also encourages individuals to research a physician who focuses on the whole picture rather than just one area. "One thing I pay a lot of attention to is not just adding volume but also the entire framework of the anatomy."
About Neal Goldberg, MD, FACS
Dr. Goldberg is a board certified cosmetic, reconstructive, and plastic surgeon practicing in the Scarsdale and Dobbs Ferry, New York area. He earned his undergraduate degree from the University of Pennsylvania's Wharton School, where he graduated magna cum laude, and his medical degree from New York University School of Medicine. He received additional medical training at Albert Einstein College of Medicine, the Jacobi Medical Center, and the US Army Brookes Burn Center. A Fellow of the American College of Surgeons, he is also an active member of the American Society of Plastic Surgeons (ASPS). Dr. Goldberg is available for interview upon request.
For more information about Dr. Goldberg and his practice, please visit doctorgoldberg.com.
Contact:
Neal D. Goldberg, MD, FACS
Scarsdale Office:
495 Central Park Ave.
Scarsdale NY 10583
(914) 722-1600
Dobbs Ferry Office:
128 Ashland Ave.
Dobbs Ferry, NY 10522
(917) 722-1600
Rosemont Media
(858) 200-0044
www.rosemontmedia.com