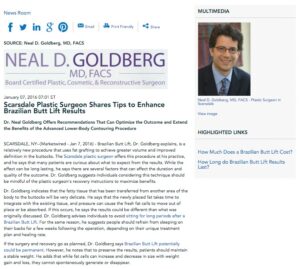 Dr. Neal Goldberg offers recommendations that can optimize the outcome and extend the benefits of the advanced lower-body contouring procedure.
Scarsdale, NY — Brazilian Butt Lift, Dr. Goldberg explains, is a relatively new procedure that uses fat grafting to achieve greater volume and improved definition in the buttocks. The Scarsdale plastic surgeon offers this procedure at his practice, and he says that many patients are curious about what to expect from the results. While the effect can be long lasting, he says there are several factors that can affect the duration and quality of the outcome. Dr. Goldberg suggests individuals considering this technique should be mindful of the plastic surgeon's recovery instructions to maximize benefits.
Dr. Goldberg indicates that the fatty tissue that has been transferred from another area of the body to the buttocks will be very delicate. He says that the newly placed fat takes time to integrate with the existing tissue, and pressure can cause the fresh fat cells to move out of place or be absorbed. If this occurs, he says the results could be different than what was originally discussed. Dr. Goldberg advises individuals to avoid sitting for long periods after a Brazilian Butt Lift. For the same reason, he suggests people should refrain from sleeping on their backs for a few weeks following the operation, depending on their unique treatment plan and healing rate.
If the surgery and recovery go as planned, Dr. Goldberg says Brazilian Butt Lift potentially could be permanent. However, he notes that to preserve the results, patients should maintain a stable weight. He adds that while fat cells can increase and decrease in size with weight gain and loss, they cannot spontaneously generate or disappear.
Dr. Goldberg explains that Brazilian Butt Lift is a highly customizable procedure, and patients should seek out a qualified, board certified plastic surgeon to perform the technique. Individuals who are concerned about the cost of a Brazilian Butt Lift, he notes, may wish to look into financing options that offer affordable payment plans.
About Neal Goldberg, MD, FACS
Dr. Neal Goldberg is a board certified plastic surgeon and a Fellow of the American College of Surgeons. He received his undergraduate degree from the Wharton School of the University of Pennsylvania, and his medical degree from New York University School of Medicine. Following graduation, he completed additional medical training at the Albert Einstein College of Medicine, the US Army Brookes Burn Center, the MD Anderson Cancer Center, and the Jacobi Medical Center. Dr. Goldberg is a member of several prestigious medical organizations, including the American Society of Plastic Surgeons (ASPS) and the New York Regional Society of Plastic Surgeons. He is available for interview upon request.
For more information about Dr. Goldberg and his practice, please visit doctorgoldberg.com and facebook.com/nealgoldbergmd.
Contact:
Neal D. Goldberg, MD, FACS
Scarsdale Office:
495 Central Park Ave.
Scarsdale NY 10583
(914) 722-1600
Dobbs Ferry Office:
128 Ashland Ave.
Dobbs Ferry, NY 10522
(917) 722-1600
Rosemont Media
(858) 200-0044
www.rosemontmedia.com