Westchester Plastic Surgeon Advocates Customizing Breast Reduction for Optimal Results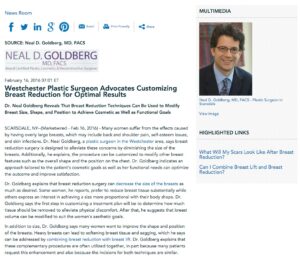 Dr. Neal Goldberg reveals that breast reduction techniques can be used to modify breast size, shape, and position to achieve cosmetic as well as functional goals.
Scarsdale, NY — Many women suffer from the effects caused by having overly large breasts, which may include back and shoulder pain, self-esteem issues, and skin infections. Dr. Neal Goldberg, a plastic surgeon in the Westchester area, says breast reduction surgery is designed to alleviate these concerns by diminishing the size of the breasts. Additionally, he explains, the procedure can be customized to modify other breast features such as the overall shape and the position on the chest. Dr. Goldberg indicates an approach tailored to the patient's cosmetic goals as well as her functional needs can optimize the outcome and improve satisfaction.
Dr. Goldberg explains that breast reduction surgery can decrease the size of the breasts as much as desired. Some women, he reports, prefer to reduce breast tissue substantially while others express an interest in achieving a size more proportional with their body shape. Dr. Goldberg says the first step in customizing a treatment plan will be to determine how much tissue should be removed to alleviate physical discomfort. After that, he suggests that breast volume can be modified to suit the woman's aesthetic goals.
In addition to size, Dr. Goldberg says many women want to improve the shape and position of the breasts. Heavy breasts can lead to softening breast tissue and sagging, which he says can be addressed by combining breast reduction with breast lift. Dr. Goldberg explains that these complementary procedures are often utilized together, in part because many patients request this enhancement and also because the incisions for both techniques are similar.
The number of incisions could be of interest because breast reduction scars are a common cosmetic concern for patients, Dr. Goldberg explains. Typically, two-to-three incisions will be used to perform this procedure, he says, and they should eventually fade to smooth white lines. In the event greater scar revision is desired, Dr. Goldberg says topical creams and laser skin resurfacing can help further minimize their appearance.
Ultimately, Dr. Goldberg wishes to emphasize the versatility of the breast reduction procedure. He says patients who want to relieve the discomfort associated with overly large breasts and improve their cosmetic appearance may benefit from this personalized approach. Dr. Goldberg suggests individuals interested should seek out a board certified plastic surgeon with experience customizing breast reduction surgery.
About Neal Goldberg, MD, FACS
A Fellow of the American College of Surgeons, Dr. Neal Goldberg is a board certified plastic and reconstructive surgeon practicing in the Westchester, Scarsdale, and Dobbs Ferry, NY area. He is a graduate of the Wharton School of the University of Pennsylvania and New York University School of Medicine. After earning his medical degree, he completed additional training at the Albert Einstein College of Medicine, the US Army Brookes Burn Center, and the MD Anderson Cancer Center. An advocate of continuing education, Dr. Goldberg is also an active member of the American Society of Plastic Surgeons (ASPS) and the New York Regional Society of Plastic Surgeons. He is available for interview upon request.
For more information about Dr. Goldberg and his practice, please visit doctorgoldberg.com and facebook.com/nealgoldbergmd.
Contact:
Neal D. Goldberg, MD, FACS
Scarsdale Office:
495 Central Park Ave.
Scarsdale NY 10583
(914) 722-1600
Dobbs Ferry Office:
128 Ashland Ave.
Dobbs Ferry, NY 10522
(917) 722-1600
Rosemont Media
(858) 200-0044
www.rosemontmedia.com