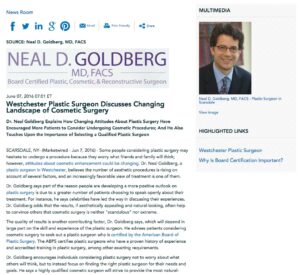 Dr. Neal Goldberg explains how changing attitudes about plastic surgery have encouraged more patients to consider undergoing cosmetic procedures. And he also touches upon the importance of selecting a qualified plastic surgeon.
Scarsdale, NY — Some people considering plastic surgery may hesitate to undergo a procedure because they worry what friends and family will think; however, attitudes about cosmetic enhancement could be changing. Dr. Neal Goldberg, a plastic surgeon in Westchester, believes the number of aesthetic procedures is rising on account of several factors, and an increasingly favorable view of treatment is one of them.
Dr. Goldberg says part of the reason people are developing a more positive outlook on plastic surgery is due to a greater number of patients choosing to speak openly about their treatment. For instance, he says celebrities have led the way in discussing their experiences. Dr. Goldberg adds that the results, if aesthetically appealing and natural-looking, often help to convince others that cosmetic surgery is neither "scandalous" nor extreme.
The quality of results is another contributing factor, Dr. Goldberg says, which will depend in large part on the skill and experience of the plastic surgeon. He advises patients considering cosmetic surgery to seek out a plastic surgeon who is certified by the American Board of Plastic Surgery. The ABPS certifies plastic surgeons who have a proven history of experience and accredited training in plastic surgery, among other exacting requirements.
Dr. Goldberg encourages individuals considering plastic surgery not to worry about what others will think, but to instead focus on finding the right plastic surgeon for their needs and goals. He says a highly qualified cosmetic surgeon will strive to provide the most natural-looking outcome possible. As a result, he says the individual will have to decide whether they want to share that they've undergone a procedure, as friends and family may not realize plastic surgery is the reason for their improved appearance.
About Neal Goldberg, MD, FACS
Certified by the American Board of Plastic Surgery (ABPS), Dr. Neal Goldberg is a plastic and reconstructive surgeon and Fellow of the American College of Surgeons (FACS). He received his undergraduate degree from the Wharton School of the University of Pennsylvania and his medical degree from New York University School of Medicine. He completed additional training at the Albert Einstein College of Medicine, the US Army Brookes Burn Center, and the MD Anderson Cancer Center. Dr. Goldberg is available for interview upon request.
For more information about Dr. Goldberg and his practice, please visit doctorgoldberg.com and facebook.com/nealgoldbergmd.
Contact:
Neal D. Goldberg, MD, FACS
Scarsdale Office:
495 Central Park Ave.
Scarsdale NY 10583
(914) 722-1600
Dobbs Ferry Office:
128 Ashland Ave.
Dobbs Ferry, NY 10522
(914) 722-1600
Rosemont Media
(858) 200-0044
www.rosemontmedia.com