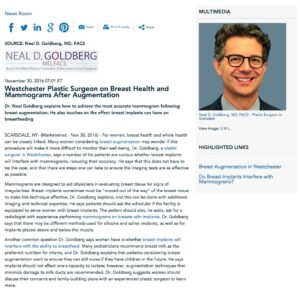 Dr. Neal Goldberg explains how to achieve the most accurate mammogram following breast augmentation. He also touches on the effect breast implants can have on breastfeeding.
Scarsdale, NY — For women, breast health and whole health can be closely linked. Many women considering breast augmentation may wonder if this procedure will make it more difficult to monitor their well-being. Dr. Goldberg, a plastic surgeon in Westchester, says a number of his patients are curious whether breast implants will interfere with mammograms, reducing their accuracy. He says that this does not have to be the case, and that there are steps one can take to ensure the imaging tests are as effective as possible.
Mammograms are designed to aid physicians in evaluating breast tissue for signs of irregularities. Breast implants sometimes must be "moved out of the way" of the breast tissue to make this technique effective, Dr. Goldberg explains, and this can be done with additional imaging and technical expertise. He says patients should ask the scheduler if the facility is equipped to serve women with breast implants. The patient should also, he adds, ask for a radiologist with experience performing mammograms on breasts with implants. Dr. Goldberg says that there may be different methods used for silicone and saline implants, as well as for implants placed above and below the muscle.
Another common question Dr. Goldberg says women have is whether breast implants will interfere with the ability to breastfeed. Many pediatricians recommend breast milk as the preferred nutrition for infants, and Dr. Goldberg explains that patients considering breast augmentation want to ensure they can still nurse if they have children in the future. He says implants should not affect one's capacity to lactate; however, augmentation techniques that minimize damage to milk ducts are recommended. Dr. Goldberg suggests women should discuss their concerns and family-building plans with an experienced plastic surgeon to learn more.
About Neal Goldberg, MD, FACS
Dr. Neal Goldberg is a board certified plastic and reconstructive surgeon practicing in the Westchester, Dobbs Ferry, and Scarsdale area. In addition to being a Fellow of the American College of Surgeons, he is also an active member of the American Society of Plastic Surgeons and several other prestigious medical organizations. Dr. Goldberg earned his undergraduate degree from the University of Pennsylvania – Wharton School of Business, graduating magna cum laude, and his medical degree from New York University School of Medicine. He received additional medical training at the Albert Einstein College of Medicine, Montefiore Medical Center and the Jacobi Medical Center. Dr. Goldberg is available for interview upon request.
For more information about Dr. Goldberg and his practice, please visit doctorgoldberg.com and facebook.com/nealgoldbergmd.
Contact:
Neal D. Goldberg, MD, FACS
Scarsdale Office:
495 Central Park Ave.
Scarsdale NY 10583
(914) 722-1600
Dobbs Ferry Office:
128 Ashland Ave.
Dobbs Ferry, NY 10522
(914) 722-1600
Rosemont Media
(858) 200-0044
www.rosemontmedia.com