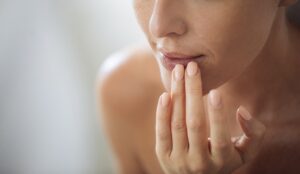 Full, voluminous lips are generally seen as a sign of beauty and youthfulness, which is why countless individuals consider aesthetic treatments to enhance their lip proportions. Thankfully, achieving softer and plumper lips doesn't always require surgical lip augmentation to obtain high-quality results! Minimally invasive cosmetic injectables are available to temporarily enhance the lip shape, offering noticeable and natural-looking augmentation that can last as long as 6 – 18 months depending on which filler is utilized. These injectables can improve many aspects of the lips, including:
Volume and softness: ​​Restylane® KYSSE is perhaps one of the most effective fillers to enhance the fullness and texture of the lips. Not only can Restylane® KYSSE make the lips softer and more voluptuous, but patients also report that the injectable adapts seamlessly to their facial expressions for natural-looking results.
Lip shape and contour: A range of injectable fillers can enhance the overall shape and contour of the lips, including JUVÉDERM™, Radiesse®, Restylane®, and Restylane® KYSSE. These products can help plump naturally thin lips or restore the volume and proportions lost from the natural aging process.
Wrinkles and creases: Restylane® Lyft and JUVÉDERM™ products can be ideal in filling deep nasolabial folds around the nose and mouth, as well as softening fine lines and wrinkles in the upper lip.
The most effective dermal fillers to achieve your goals will depend on your concerns and what you hope to see for the final results. Since they do not require any surgery or extensive downtime, dermal fillers can be an excellent way to subtly augment the lips before a special event, or simply to slow down the aging process.
Dr. Neal Goldberg offers several minimally invasive treatments to help NYC-area patients achieve their goals without surgery or a recovery period. Contact our Westchester office for more information on our med spa services, or to book an appointment.